A painting of Dr. Martin Luther King Jr. overlooks the entrance hallway of David Oyelowo's suburban Los Angeles home, and in the bathroom there's an appreciative letter from Dr. King's daughter. But it's hard to find much physical resemblance to the civil-rights hero in Oyelowo himself. The actor who played Dr. King in Ava DuVernay's Selma greets me in a casual black T-shirt and slim mauve pants, a big bracelet encircling his wrist. He speaks with a plummy British accent that hums in your ear, often accompanied by a booming laugh. Though he's best known in the United States for playing MLK, Oyelowo is ready to be funny.
"I wouldn't describe myself as a Method actor," the 41-year-old claims, nestling beside his roaring fireplace on a 60-degree winter morning. Okay, he concedes, maybe he did gain 30 pounds and spend three months immersed in the character of Dr. King for Selma. And yes, he did live apart from his wife and four children in order to fully inhabit his roles as a South Central L.A. detective in the upcoming Blumhouse Productions movie Only You and as a man with dissociative-personality disorder for the 2015 HBO movie Nightingale. He sees these adjustments as just part of the gig: "Some roles have a higher price tag on them than others."
After a series of these high-investment roles — including the African monarch in A United Kingdom whose interracial marriage threatens the stability of an entire continent; Captive's football player turned killer; the lead in a celebrated Off Broadway production of Othello opposite Daniel Craig's Iago — Oyelowo was looking for some light relief. He found it in Gringo. In the corporate action-satire, Oyelowo plays Harold Soyinka, a hardworking African immigrant and continually imperiled manager at a Chicago pharmaceutical company. His bosses (Charlize Theron and Joel Edgerton) are on the brink of a merger and will do anything to keep the deal alive, even if it means risking the life of one of their top employees.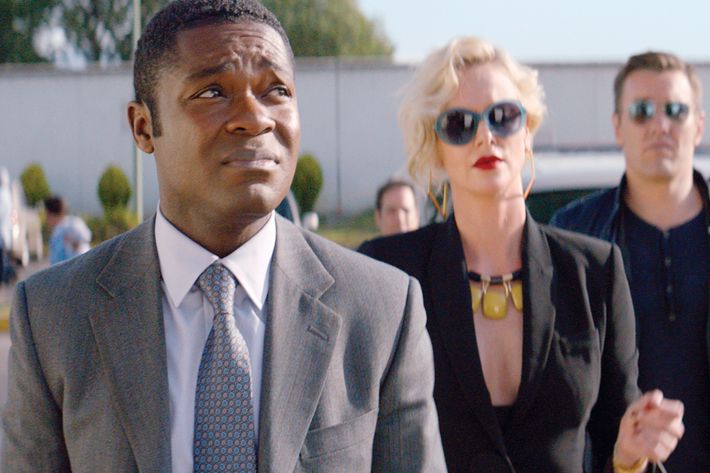 "When I am screaming in the film, it's not acting!" Oyelowo says, laughing. To film a car-crash scene, he says, director Nash Edgerton put him "in a hamster wheel and revolved it very quickly over and over," all while he was suffering from a "debilitating, I-am-going-to-die" case of food poisoning picked up during the shoot in Tulum, Mexico. "I had done things like Jack Reacher and Rise of the Planet of the Apes that had an element of action, but this was my most constant experience of being battered and bruised."
The character in Gringo's original script was a nebbishy white guy, but Oyelowo convinced his director that changing Harold into an industrious Nigerian would add an unexpected dimension. In 2018, making an African immigrant the virtuous hero of an action movie seems like a political statement, but Oyelowo says that's a happy accident. Still, "we could never have predicted that the word immigrant would take on such cultural resonance a year and a half after we were shooting the film," he marvels. "Harold is exactly the kind of guy who would be fearing for his ability to stay in the country now. He is someone who really believes in the tenets on which this country was built — more so than the Americans he is dealing with. This country runs on those wide-eyed believers."
Oyelowo's own migratory life has given him some perspective on this matter. Although he mostly grew up in London, Oyelowo spent his elementary-school years in his parents' native Nigeria. "Nothing was more formative for my identity than those seven years," he says. "It's different as a black person or a person of any race when you live in a place where you are the majority." He'd been told he was descended from Nigerian royalty, but that felt like an abstraction until he moved to Lagos. "Being there and living on Oyelowo Street in the Oyelowo compound with very self-possessed family members who had a very real sense of themselves" instilled in him an indelible self-confidence.
Along with that came familial pressure to excel academically; as much as Oyelowo loved painting and performing in youth theater, those didn't seem like acceptable career choices. "I would watch Blair Underwood in L.A. Law and think, He's dashing and he gets to talk in front of people — maybe I should be a lawyer," Oyelowo recalls. "It would please my dad, I could pretend to be Blair Underwood, and everyone is happy."
Eventually he risked parental disappointment and dove into British theater, becoming the first black actor to play Henry VI in a Royal Shakespeare Company production. He later co-starred in the British TV spy series MI-5 and nabbed small roles in The Last King of Scotland and Lincoln, along with a celebrated appearance in Ava DuVernay's low-budget movie Middle of Nowhere. The last sparked a creative partnership that continued when Oyelowo recommended DuVernay to direct Selma after a succession of directors walked away from the project. "Ava and I talk about every professional decision we are thinking of making," he says. "We feel inextricably linked in our desire to continue to exhibit the complexity of black life on film." I ask how he felt last year when Samuel L. Jackson questioned the casting of British actors in American movies about race, referencing Oyelowo and Daniel Kaluuya. "You never hear anyone complaining about Daniel Day-Lewis playing Lincoln," he replies with a shrug. "That happens when there is a smaller piece of the pie for people to feed on."
In order to expand that pie, Oyelowo's committed to develop his own projects — including A United Kingdom, the true story of the king of Botswana and his controversial 1948 marriage to a white British woman, and a movie about boxer Sugar Ray Robinson. "I promised myself that I would work as hard as I could to get to the point where people would ask me what I want to do next," he says. "And when they ask me what I want to do next, I will not only have one thing or two things, I will have ten things ready to completely erode any excuse they have to not let me go do it."
*This article appears in the March 5, 2018, issue of New York Magazine. Subscribe Now!