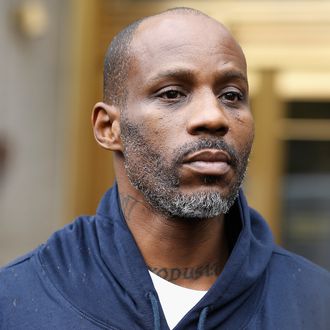 DMX.
Photo: John Lamparski/Getty Images
Before DMX (legal name Earl Simmons) faced the music and was officially sentenced to one year in prison for tax fraud on Wednesday, he heard his hit "Slippin'" in court. According to Billboard, Federal Judge Jed Rakoff played the song at the rapper's request.
DMX pleaded guilty last year to tax-evasion charges. According to the U.S. Attorney's Office of the Southern District of New York, DMX had engaged in a multiyear scheme to avoid paying $1.7 million in taxes. The "scheme" included mostly using cash for all transactions and avoiding using a bank account in his name, even as he toured and sold records.
In court the rapper admitted he had broken the law. "I wasn't following the rules," he said.
If DMX was charged on every count he was originally charged with he could have faced up to 40 years behind bars. The prosecutors sought five years, while DMX's lawyer argued that a lesser sentence would allow the rapper more opportunities to provide for his 15 children and pay off his massive tax bill.