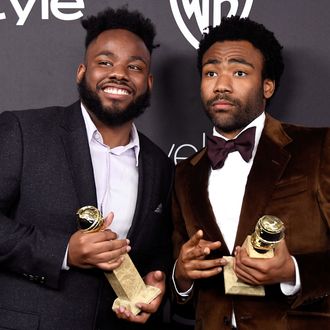 Stephen and Donald Glover.
Photo: Frazer Harrison/Getty Images
After both Donald and Stephen Glover, FX, and Marvel walked away from an animated Deadpool series that the brothers had scripted, Donald shared a mock script shading the executives, which referenced an episode about Taylor Swift. At the time, that seemed like another one of the mock script's timely jokes, but Stephen Glover makes it seem like a Swift-inspired episode actually led to the project's demise. In a pair of now-deleted tweets screenshotted by The Wrap, he identifies the Taylor Swift episode as the breaking point.
"There really was a Taylor Swift episode," Stephen wrote. "It was HILARIOUS. And it definitely was the last straw lol." He also added: "Our show wasn't too black. It wasn't really that black at all. But we definitely wanted to give Rick and Morty a run for their money and I think we would have. Proud of the gang." When the Deadpool show was announced, the Glover brothers were onboard to write, executive-produce, and serve as the series' showrunners. During Atlanta's first season, the brothers spoofed one of Swift's peers: Stephen had the genius idea to let the show wonder what would happen if Justin Bieber were black.