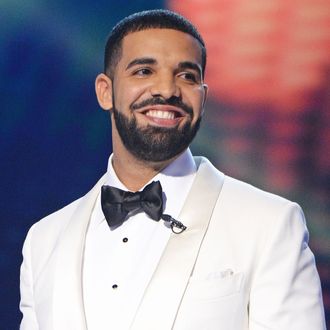 Photo: Kevin Mazur/Getty Images for TNT
On Wednesday night, streaming zaddy Drake finally made the act of watching other people play video games charming. Taking a break from recording his new album, Drake played Fortnite on Twitch, setting a new streaming record. For the uninitiated, Fortnite is a popular survival game, and Twitch is a live-streaming platform where gamers can watch each other play. ("Being attracted to men means at some point in your life you've pretended to be interested in watching someone play video games," comedian and American Vandal writer Jaboukie Young-White tweeted once, in his infinite wisdom.) But the rapper wasn't alone: Drake (username TheBoyDuddus) was joined by Travis Scott (cactus_jackk92) and NFL player JuJu Smith-Schuster (FaZeJuJu_19), along with top player Ninja.
During play, Drake and Ninja chatted about the benefits of working from home, and whether pineapple pizza is an unholy union or a delicious treat. "I've been recording most of this album in Miami. I work mostly from home," Drake said. "Studio at the crib, you know? Have a chef come through, make some food. That's where I get the most work done. That way if I want to record something, I can just wake up and go in the other room and get it done." Then Scott arrived:
(The joke here, apparently, is that in the game they're called "bandages.")
Logic and Post Malone watched from afar, tweeting their commentary. The latter invited Drizzy to play PUBG (PlayerUnknown's Battlegrounds), a multiplayer battle royale game.
Meanwhile, poet laureate Chrissy Teigen is the rest of us: