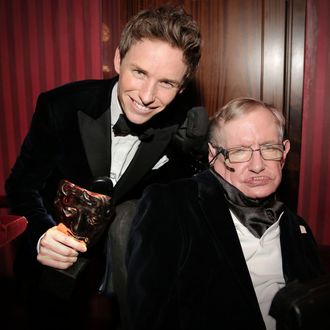 Eddie Redmayne and Stephen Hawking.
Photo: Hannah Taylor/BAFTA/REX/Shutterstock
Renowned British theoretical physicist Stephen Hawking died at 76 last night at his home in Cambridge, England. In addition to his contributions to the study of astrophysics, space, and time, Hawking, who was diagnosed with ALS in 1963 at 21 years old, is believed to have been the longest-living person with the disease. His 1988 book A Brief History of Time became an international best seller. In the wake of his passing, Hawking was remembered by the numerous celebrities and other icons who interacted with him, including Eddie Redmayne, who won an Oscar for playing the scientist in The Theory of Everything. "We have lost a truly beautiful mind, an astonishing scientist and the funniest man I have ever had the pleasure to meet," Redmayne said in a statement. "My love and thoughts are with his extraordinary family."
In another statement, Anthony McCarten, who wrote and produced The Theory of Everything, wrote:
Stephen Hawking's life was devoted to wondering and to wonder. Upon hearing that he died today my first thought was that if you'd told him at 21, when he received the cold verdict from a doctor that he had two years to live, and there was nothing they could do for him medically, that he'd never have imagined he'd live another 55 years. He was a molecular miracle, both physically and intellectually, and it was one of the great honors of my life to have met him, spent some time with him, and been his cinematic biographer. I will always remember his reaction to his first viewing of "The Theory of Everything." As the lights rose in the private theatre his nurse wiped a tear from his cheek and he began to type - a laborious process for him - his verdict: "Broadly true." His place in history is assured, for his pioneering work on understanding black holes and the early universe, but I will remember him for his bravery, his wit, and the object lesson he delivered every day, that life is what you make it. Travel well Steve, to your rightful place among the stars. I trust that in death you have fulfilled your life's ambition, to know the mind of God.
Other tributes came from the cast of The Big Bang Theory, including Kaley Cuoco, Johnny Galecki, and Mayim Bialik.
John Oliver.
Simpsons producers and writers Matt Selman and Al Jean.
Star Trek: The Next Generation's Brent Spiner.
Astrophysicist Neil deGrasse Tyson.
Canadian astronaut Chris Hadfield.
And more.