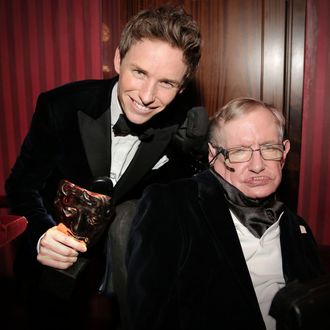 Eddie Redmayne and Stephen Hawking.
Photo: Hannah Taylor/BAFTA/REX/Shutterstock
It definitely feels like Eddie Redmayne is in everything these days. The actor even joined almost 500 other mourners in paying tribute to Stephen Hawking at his funeral service on Saturday morning. Redmayne played Hawking in the 2014 biopic The Theory of Everything, winning an Oscar for his portrayal of the world- renowned scientist. Even though he probably has plenty of prepared monologues, the actor instead used his boyish charm to give a reading from Ecclesiastes. The private service was attended by a number of other celebrities with connections to the late physicist.
Also present was actress Felicity Jones, who co-starred with Redmayne as Hawking's wife, Jane, as well as Queen's Brian May, model Lily Cole, and Irish comedian Dara Ó Briain. Elon Musk was also there because, why not, he's pretty big into science. Redmayne was one of the first celebrities to publicly mourn the beloved researcher, issuing a statement to People that said, "We have lost a truly beautiful mind, an astonishing scientist and the funniest man I have ever had the pleasure to meet. My love and thoughts are with his extraordinary family." Does anyone have any more awards we can give him?