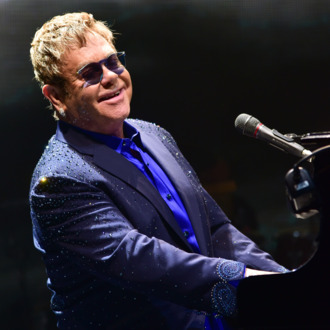 Elton John.
Photo: Lisa Lake/Getty Images
In today's edition of "things that seem fun and ballsy in theory but are really just genuinely bad ideas," a bunch of fans attending a concert at Elton John's Las Vegas residency thought they would reach out and grab the legend when they had a clean break — prompting John to go berserk and temporarily leave the stage. In a video obtained by TMZ, the scene occurred when John was in the midst of performing the fan-favorite jam "Saturday Night's Alright for Fighting," during which time about a dozen attendees were invited to surround him and his piano on stage. However, in place of dancing and jiving as the song so wonderfully encourages, a Walking Dead-esque situation occurred instead, with these people desperately pawing in the hopes of touching John's flesh. To that, John had two simple words before leaving: "Fuck off!"
John finished his concert at Caesars Palace without issue upon his return to the stage a few minutes later, but not before clarifying to the audience the repercussions of their actions: "No more coming on stage on 'Saturday Night.' You fucked it up." Dunce caps for all of you.