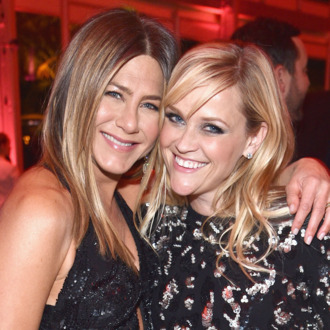 Aniston and Witherspoon will star in an upcoming Apple show.
Watch your back, Amazon. Diversify your assets, Hulu. Yes, Apple has already dipped into the TV industry with shows like Planet of the Apps and Carpool Karaoke, but the tech giant will soon be emerging from the Peak TV trenches to challenge every major player by developing new programs that boast some of the brightest stars and creatives in Hollywood. Intrigued? So are we. Read on for everything you need to know about Apple's billion-dollar commitment, whether it's Jennifer Aniston's small-screen return, a cult Spielbergian reboot, or even some wowza-inducing real-estate porn.
Untitled Jennifer Aniston and Reese Witherspoon dramedy
Stars and creators: Jennifer Aniston will make her official return to television, joining Reese Witherspoon as the untitled show's two leads — and the duo will also be executive producing. House of Cards' Jay Carson will take on showrunning duties.
Premise: Using Brian Stelter's juicy book Top of the Morning as its primary source, the series — which already has a two-season order of 20 episodes — is described as an "inside look at the lives of the people who help America wake up in the morning" in a Today show–esque setting, "exploring the unique challenges faced by the women and men who carry out this daily televised ritual." How timely!
Premiere date: TBD.
Untitled M. Night Shyamalan thriller
Stars and creators: M. Night Shyamalan will executive produce and direct the first episode. Tony Basgallop, who worked on 24: Legacy and 24: Live Another Day, created the series.
Premise: Your guess is as good as ours. Apple has disclosed zero plot details about this psychological thriller, only confirming it'll be a half-hour format with a ten-episode order. This would be Shyamalan's second time experimenting with TV, following Fox's Wayward Pines.
Premiere date: TBD.
Untitled Kristen Wiig comedy
Stars and creators: Kristen Wiig will return to TV in a leading capacity for the first time since SNL in this comedy series, with Reese Witherspoon tagging along as a producer. 30 Rock alumna Colleen McGuinness will be the showrunner.
Premise: The series is based on Curtis Sittenfeld's You Think It, I'll Say It, a short-story collection that's coming out in April. It'll clock in at ten half-hour episodes.
Premiere date: TBD.
Untitled Damien Chazelle drama
Stars and creators: Whiplash and La La Land director Damien Chazelle will take the creative reins with this series, promising to write and direct every single episode.
Premise: It will be "innovative." That's literally all we know about the show. Not even an episode count! Also, Chazelle's La La Land collaborators Jordan Horowitz and Fred Berger will be involved in some capacity.
Premiere date: TBD.
Untitled Ronald D. Moore space drama
Stars and creators: The maestro behind Outlander and Battlestar Galactica has found a new sci-fi adventure, and he'll be writing and executive producing it. Fargo writers Matt Wolpert and Ben Nedivi will work alongside Moore in all creative capacities as co-creators.
Premise: The one-hour drama is set in an "alternate timeline where the space race never ended."
Premiere date: TBD.
Are You Sleeping
Stars and creators: Octavia Spencer will star in this drama, with Reese Witherspoon producing. (Should we just call her the queen of Apple TV at this point?) The Good Wife's Nichelle Tramble will serve as showrunner, with Serial's Sarah Koenig along for the ride as a consultant.
Premise: This one has a lot of layers. Are You Sleeping is based on Kathleen Barber's popular novel of the same name, which revolves around "a murder case that's reopened thanks to renewed interest in the mystery after a podcast about it goes viral." So, essentially what happened with the Serial phenomenon.
Premiere date: TBD.
Little America
Stars and creators: The formidable trio of The Big Sick's Kumail Nanjiani and Emily V. Gordon, as well as Master of None's Alan Yang, will serve as executive producers. The Office's Lee Eisenberg will produce with Nanjiani and Gordon's assistance in the writers room.
Premise: The half-hour anthology will be based on true stories from Epic magazine, according to Variety, specifically those related to "stories of immigrants in America."
Premiere date: TBD.
Home
Stars and creators: The producing duo of Matt Tyrnauer and Corey Reese, with Tyrnauer also directing.
Premise: As the only docuseries currently on Apple's slate, the ten-episode Home is described as a luxurious guide through the world's most beautiful homes, which in turn "unveils the boundary-pushing imagination of the visionaries who dared to dream and build them." So, real-estate porn! And lots of it!
Premiere date: TBD.
Amazing Stories
Stars and creators: The series is currently without a stable creative team, owing to showrunner Bryan Fuller's unexpected departure due to "creative differences" earlier this year.
Premise: Apple is hoping to do a faithful reboot of Steven Spielberg's cult anthology series from the 1980s, which told narratives that blended sci-fi, fantasy, and horror elements in each episode.
Premiere date: TBD.
Swagger
Stars and creators: Basketball icon Kevin Durant and Brian Grazer are executive producing, with Reggie Rock Bythewood writing.
Premise: Directly inspired by Durant's basketball experiences in his youth, Variety reports that Swagger will take a dramatic deep dive into "the world of Amateur Athletic Union (AAU) basketball and the lives of the players, their families, and coaches."
Premiere date: TBD.
See
Stars and creators: Peaky Blinders creator Steve Knight wrote the entire series — which will likely be eight episodes — and it'll also be entirely directed by The Hunger Games' Francis Lawrence.
Premise: Apple is being coy with the plot details, but Deadline describes the series as an "epic, world-building drama set in the future."
Premiere date: TBD.