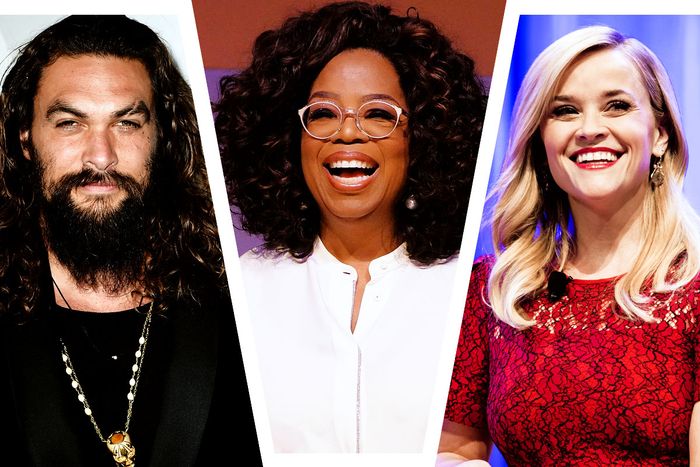 Aniston and Witherspoon will star in an upcoming Apple show.
Photo: Getty Images
Watch your back, Amazon. Diversify your assets, Hulu. Yes, Apple has already dipped into the TV industry with shows like Planet of the Apps and Carpool Karaoke, but in 2018, the tech giant emerged from the Peak TV trenches to challenge every major player with new shows that boast some of the brightest stars and creatives in Hollywood. Intrigued? So are we. Read on for everything you need to know about Apple's billion-dollar commitment, whether it's Jennifer Aniston's small-screen return, a cult Spielbergian reboot, or some wowza-inducing real-estate porn.
Untitled Jennifer Aniston and Reese Witherspoon dramedy
Stars and creators: Jennifer Aniston will make her official return to television, joining Reese Witherspoon as the untitled show's two leads — and the duo will also be executive producing. Their co-stars will include Steve Carell, Gugu-Mbatha Raw, and Billy Crudup. In addition to writing the series, Bates Motel's Kerry Ehrin will take on showrunning duties, as well as serve as EP.
Premise: Using Brian Stelter's juicy book Top of the Morning as its primary source, the series — which already has a two-season order of 20 episodes — is described as an "inside look at the lives of the people who help America wake up in the morning" in a Today show–esque setting, "exploring the unique challenges faced by the women and men who carry out this daily televised ritual." How timely!
Premiere date: TBD.
My Glory Was I Had Such Friends
Stars and creators: After the lukewarm reception of Camping, Jennifer Garner will be returning to the guy who perhaps knows her small-screen talents the best: J.J. Abrams, a.k.a. her Alias creator. Garner will be headlining the hour-long drama series, with Abrams executive producing and Karen Croner (Admission) writing every episode.
Premise: Based on the memoir by Amy Silverstein, My Glory Was I Had Such Friends revolves around Silverstein, a woman who received a heart transplant at a young age and then, 26 years later, had her donor heart fail. While the series will mostly look at Garner's character, it also promises to depict "an extraordinary group of women who supported Silverstein as she waited for a second life-saving heart transplant."
Premiere date: TBD
Defending Jacob
Stars and creators: Captain America himself, Chris Evans! He'll be pulling double duty as the lead and executive producer, with Mark Bomback (Planet of the Apes trilogy) joining as showrunner.
Premise: Based on the novel of the same name by William Landay, this limited, eight-episode series will have Evans playing an extremely good-looking father and district attorney, whose life begins to unravel when "his teenage son is a suspect in the case of a murdered 14-year-old boy he is investigating." He has to find out the truth, and fast, or his son will be in jail for a long time.
Premiere date: TBD.
Peanuts
Stars and creators: We actually don't know yet, but besides the series getting the requisite clearance from Charles M. Schulz's estate, NASA has also signed on for official involvement.
Premise: Fun for the kids! But educational fun. This Peanuts acquisition will be less melancholic and more academia-centric, designed to "inspire kids to pursue their interests in space exploration and STEM fields in general" through new shorts, series, and specials. A brand-new character will also be introduced: Astronaut Snoopy.
Premiere date: TBD.
Untitled Oprah Winfrey programming
Stars and creators: Wow, just look at the title, buddy.
Premise: Let's say … anything Oprah wants to do? In the network's announcement, Apple said she will be creating various forms of original programming, all of which "embrace her incomparable ability to connect with audiences around the world." Whether this means scripted series, talk shows, or reality shows remains to be seen.
Premiere date: TBD.
Untitled Charlie Day and Rob McElhenney comedy
Stars and creators: It's Always Sunny in Philadelphia's Rob McElhenney will headline the half-hour comedy, co-written and co-executive produced with Sunny costar Charlie Day
Premise: We have a basic plot, but not much else. It'll be set at a "video-game development studio" (video-game publisher Ubisoft will also produce), but Apple stopped itself short of confirming if it'll be a workplace comedy.
Premiere date: TBD.
Untitled Hilde Lysiak mystery drama
Stars and creators: The Florida Project's breakout star, Brooklynn Prince, will be starring as Hilde Lysiak, and Crazy Rich Asians' Jon M. Chu will direct the entire limited series.
Premise: Based on a true story that would make Nancy Drew scream with pride, the series is based on Lysiak's detective work — at the ripe age of 9, she started her own newspaper and solved a cold case in her seemingly snoozy town of Selinsgrove, Pennsylvania. Chances are, you've read about Lysiak in recent years and just didn't remember.
Premiere date: TBD.
Untitled M. Night Shyamalan thriller
Stars and creators: M. Night Shyamalan will executive produce and direct the first episode. Tony Basgallop, who worked on 24: Legacy and 24: Live Another Day, created the series.
Premise: Your guess is as good as ours. Apple has disclosed zero plot details about this psychological thriller, only confirming it'll be a half-hour format with a ten-episode order. This would be Shyamalan's second time experimenting with TV, following Fox's Wayward Pines.
Premiere date: TBD.
Little Voice
Stars and creators: J.J. Abrams and Sara Bareilles are executive producing the series, with Jessie Nelson (who previously worked with Bareilles on Waitress) serving as the showrunner.
Premise: The ten-episode, half-hour romantic dramedy is described as a sonic love letter to New York City, which promises to explore "the universal journey of finding your authentic voice in your early 20s." Bareilles will pen multiple original songs for the series.
Premiere date: TBD.
Dickinson
Stars and creators: Hailee Steinfeld as Emily Dickinson! Jane Krakowski as her mother! Alena Smith (The Newsroom) will be writing the series.
Premise: This ain't Cynthia Nixon's version, that's for sure. Dickinson is described as a 30-minute, coming-of-age comedy that explores "the constraints of society, gender and family from the perspective of a budding writer who doesn't fit in to her own time through her imaginative point of view." That, and it'll be set in the 1800s with a "modern sensibility and tone."
Premiere date: TBD.
Sesame Workshop
Stars and creators: No Hollywood creators are attached yet.
Premise: Not to be confused with HBO's recent Sesame Street deal, Apple's Sesame Workshop children's programming has a multi-season order and will include a live-action, animated, and puppet series, but details are scarce. It will not cross over with Sesame Street in any way.
Premiere date: TBD.
Untitled Damien Chazelle drama
Stars and creators: Whiplash and La La Land director Damien Chazelle will take the creative reins with this series, promising to write and direct every single episode.
Premise: It will be "innovative." That's literally all we know about the show. Not even an episode count! Also, Chazelle's La La Land collaborators Jordan Horowitz and Fred Berger will be involved in some capacity.
Premiere date: TBD.
For All Mankind
Stars and creators: The maestro behind Outlander and Battlestar Galactica, Ronald D. Moore, has found a new sci-fi adventure, and he'll be writing and executive producing it. Fargo writers Matt Wolpert and Ben Nedivi will work alongside Moore in all creative capacities as co-creators.
Premise: The one-hour drama is set in an "alternate timeline where the space race never ended."
Premiere date: TBD.
Are You Sleeping
Stars and creators: Octavia Spencer will star in this drama, with Reese Witherspoon producing. (Should we just call her the queen of Apple TV at this point?) The Good Wife's Nichelle Tramble will serve as showrunner, with Serial's Sarah Koenig along for the ride as a consultant.
Premise: This one has a lot of layers. Are You Sleeping is based on Kathleen Barber's popular novel of the same name, which revolves around "a murder case that's reopened thanks to renewed interest in the mystery after a podcast about it goes viral." So, essentially what happened with the Serial phenomenon.
Premiere date: TBD.
Little America
Stars and creators: The formidable trio of The Big Sick's Kumail Nanjiani and Emily V. Gordon, as well as Master of None's Alan Yang, will serve as executive producers. The Office's Lee Eisenberg will produce with Nanjiani and Gordon's assistance in the writers room.
Premise: The half-hour anthology will be based on true stories from Epic magazine, according to Variety, specifically those related to "stories of immigrants in America."
Premiere date: TBD.
Home
Stars and creators: The producing duo of Matt Tyrnauer and Corey Reese, with Tyrnauer also directing.
Premise: As the only docuseries currently on Apple's slate, the ten-episode Home is described as a luxurious guide through the world's most beautiful homes, which in turn "unveils the boundary-pushing imagination of the visionaries who dared to dream and build them." So, real-estate porn! And lots of it!
Premiere date: TBD.
Amazing Stories
Stars and creators: Edward Kitsis and Adam Horowitz will showrun, in addition to executive produce, the show. They'll be joined by fellow executive producer Steven Spielberg, as well Darryl Frank and Justin Falvey. Amazing Stories is to be produced by Universal Television and Amblin Television.
Premise: Apple is hoping to do a faithful reboot of Spielberg's cult anthology series from the 1980s, which told narratives that blended sci-fi, fantasy, and horror elements in each episode.
Premiere date: TBD.
Swagger
Stars and creators: Basketball icon Kevin Durant and Brian Grazer are executive producing, with Reggie Rock Bythewood writing.
Premise: Directly inspired by Durant's basketball experiences in his youth, Variety reports that Swagger will take a dramatic deep dive into "the world of Amateur Athletic Union (AAU) basketball and the lives of the players, their families, and coaches."
Premiere date: TBD.
See
Stars and creators: Peaky Blinders creator Steve Knight wrote the entire series — which will likely be eight episodes — and it'll also be entirely directed by The Hunger Games' Francis Lawrence.
Premise: Apple is being coy with the plot details, but Deadline describes the series as an "epic, world-building drama set in the future."
Premiere date: TBD.
Central Park
Stars and creators: The voice work of Josh Gad, Leslie Odom Jr., Tituss Burgess, Kristen Bell, Stanley Tucci, Daveed Diggs, and Kathryn Hahn will be featured in a regular capacity. Loren Bouchard, who created Bob's Burgers, will be the showrunner.
Premise: The animated comedy — which received a two-season order of 26 episodes — will tell the story of how a "family of caretakers, who live and work in Central Park, end up saving the park, and basically the world."
Premiere date: TBD.
Foundation
Stars and creators: David S. Goyer (The Dark Knight) and Josh Friedman (Avatar 2) are sharing showrunner duty.
Premise: Based on Isaac Asimov's sprawling science-fiction novel trilogy, Foundation hopes to bring Apple some Star Trek magic by chronicling the thousand-year saga of "the Foundation, a band of exiles who discover that the only way to save the Galactic Empire from destruction is to defy it."
Premiere date: TBD.
Losing Earth
Stars and creators: The series will be adapted from a New York Times story written this summer by Nathaniel Rich, a writer-at-large at the Times Magazine. Rich and Steven Golin (Spotlight) will executive produce. Besides those two gents, nobody else is confirmed.
Premise: "Losing Earth," which you can read in its entirety here, chronicles the period between 1979 and 1989 when a small but colossally important group of American scientists, activists, and politicians "tried to save the world from the ravages of climate change before it was too late." (No spoilers, but it was of mixed success.) It's currently unclear if Apple's adaptation will serve as an accompanying documentary or drama series.
Premiere date: TBD.
Pachinko
Stars and creators: Based on Min Jin Lee's novel of the same name, Apple's Pachinko adaptation will retain her literary services for executive producer duties. Soo Hugh, who executive produced AMC's The Terror, will write every episode.
Premise: The novel tells various, intertwined stories of a Korean family living in Japan throughout the 20th century, generation by generation. Interestingly, Apple gave Pachinko what can only be described as a massive budget, with plans to make it the network's version of The Crown. It'll also be told in Korean, Japanese, and English.
Premiere date: TBD.
Time Bandits
Stars and creators: Terry Gilliam! Given that he, you know, wrote the film this adaptation is based on, he's going to be an executive producer.
Premise: Released in 1981, the comedy-fantasy Time Bandits follows an adventurous, history-lovin' youngster who decides to join a ragtag team of time-traveling dwarfs after they emerge from his closet one night. They hop from era to era to steal treasure and socialize with famous historical figures, all with the help of a magical map.
Premiere date: TBD.
This post has been updated throughout.