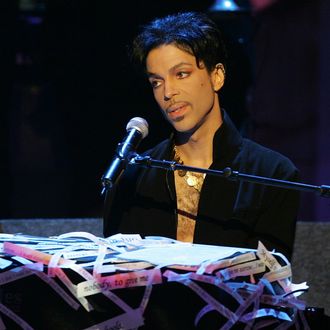 Prince.
Photo: Kevin Winter/Getty Images
An initial assessment performed after the death of Prince confirmed suspicions that the singer had died of an accidental opioid overdose at his home Paisley Park in Minnesota on April 21, 2016. Now, a new toxicology report from his autopsy obtained by the Associated Press reveals that Prince had extremely high levels of the painkiller fentanyl in his body at the time of his death.
According to the report, fatalities have been known to occur at fentanyl levels as low as 3 micrograms by liter or as high as 58 micrograms per liter. Prince's blood, the report finds, contained a fentanyl concentration of 67.8 micrograms per liter. Meanwhile, the level of fentanyl present in the singer's liver was 450 micrograms by kilogram, an amount far surpassing the amount that, according to the report, can "seem to represent overdose or fatal toxicity cases," which is 69 micrograms per kilogram. These quantities were accompanied by a "potentially lethal amount of fentanyl in Prince's stomach."
"The amount in his blood is exceedingly high, even for somebody who is a chronic pain patient on fentanyl patches," Dr. Lewis S. Nelson, chairman of the department of emergency medicine at Rutgers New Jersey Medical School, told the AP, calling the fentanyl findings "a pretty clear smoking gun." The narcotic was found in the singer's home after his death, though he allegedly did not have a prescription for it at the time.