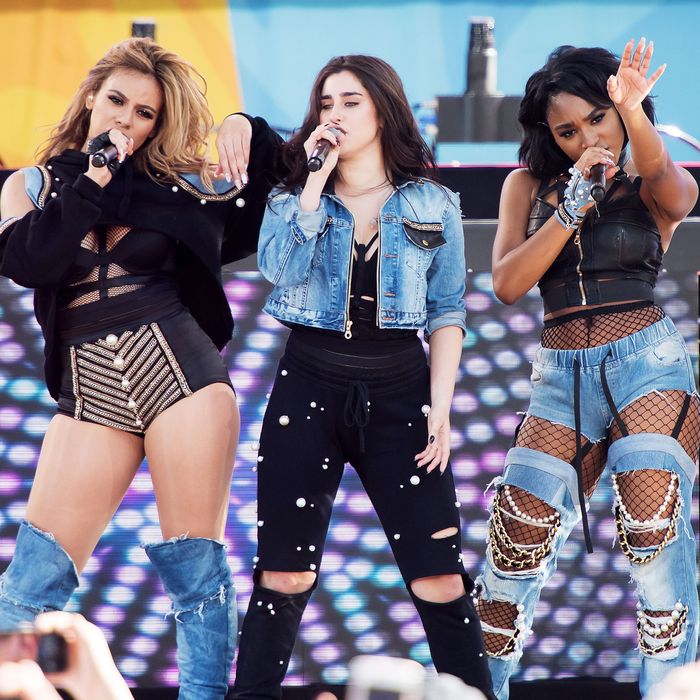 Photo: Mike Pont/WireImage
Group acts in pop have always been unstable compounds. Even when the pieces fit, the blowup is inevitable. It can happen many ways. The management can be so corrupt that it's intolerable, for one. Lou Pearlman, the former manager for Backstreet Boys, 'N Sync, and virtually every boy band in the '90s ended up being sued by most of the groups he managed for gross financial chicanery. Sometimes the group just runs out of steam: Witness the fate of the Spice Girls, who sank out of sight almost as rapidly as they'd risen. And then there's dissension. Fame magnifies imbalances in talent and, as intramural tensions grow, the allure of a solo career becomes irresistible. Justin Timberlake and Beyoncé are the classic examples, but the most recent instance is that of Camila Cabello, who struck out from Fifth Harmony to achieve even greater success on her own.
Meanwhile, the remainder of Fifth Harmony has taken Cabello's acrimonious parting rather less well. Today the quartet announced that it would be suspending operations until further notice. Along with One Direction, Fifth Harmony had been the defining pop group of its generation; the end of both in the last three years now raises questions about what could follow them. Pop groups have always been ephemeral by nature, but it's not impossible that the pop group itself, as a general format, is no longer viable.
Few types of acts have been more reliant on the music industry than the pop group. With the partial exception of family-based units like the Jonas Brothers or 98 Degrees, its chemistry has always been entirely artificial, and the rise to stardom of any given group is rarely organic. The members' contribution to their own artistic direction is secondary; all considerations of quality are tied to market appeal. It follows that the relative weakening of the music industry over the past two decades has dampened the prospects for aspiring boy bands and girl groups, plus their managers. Though the industry remains powerful by objective standards, its ability to dictate tastes has fallen off considerably due to the internet. Even if a group is loaded into the catapult, there's no way to ensure that it hits its mark. It's telling that Fifth Harmony, One Direction, and the Jonas Brothers came to the industry only after having gained great visibility through television: 5H and 1D were forged on The X-Factor while the Jonases were graduates of the Disney Channel.
Yet as streaming services eat away at the audience for television, particularly among the young, even television seems like less of a sure road to music stardom. It's telling that a fledgling boy band like Why Don't We owes most of its recognition to their affiliation with big-league YouTube vlogger Logan Paul rather than publicity arranged by music-business publicists, or that Paul's brother and fellow YouTube celebrity, Jake Paul, could land his posse Team 10 on the Billboard charts with a song named after Jake's catchphrase, "It's Everyday Bro." To say that Team 10 qualify as a musical act would be generous, but they're the closest thing to a future model for the pop group that we have at this point, which is a nice way of saying that there may be no future at all.
And then there's the state of pop itself, which seems more and more like a saccharine sub-variant of rap than the main attraction for the masses. Pop groups thrive on the spotlight and the spotlight only, but as pop is progressively eclipsed by hip-hop on streaming, it's evident that however well individual solo acts adjust to the new environment, any new pop group will have a hard time gaining traction. Who needs the next Jonas Brothers when the Migos already exist? Why invest time and money to invent five different characters for a girl group when Cardi B is realer than anyone the industry can manufacture?
Of course, the prospects for the pop group are hardly dire everywhere in the world. For at least a decade, the liveliest girl groups and boy bands have come out of South Korea, where a rising economy and a relative absence of competition has made fresh-faced acts like BTS, BIGBANG, Wonder Girls, and 2NE1 not only major stars in their own country but superstars within much of East Asia. Backed by ferocious fan hives with access to the world's fastest internet, K-pop groups sit at the peak of the Korean music industry. And though the music industry abroad is no less exploitative and groups are no less prone to dissolution, it's still a given in Seoul that when one group goes down, another one, just as big if not bigger, will soon replace it. As far as a successor to Fifth Harmony goes, though, we'll believe it only when we see it.