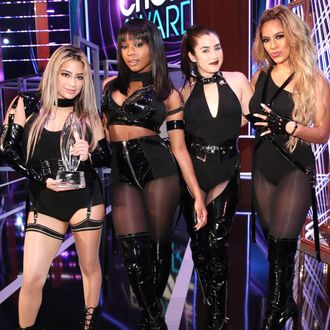 They're just five melodies now.
Photo: Christopher Polk/Getty Images for People's Choice
Fifth Harmony has gone from five members to four to a bunch of ones. Today, the girl group announced that "after six years going hard, non stop" they have "realized that in order to stay authentic to ourselves and to you, we do need to take some time for now to go on a hiatus from Fifth Harmony in order to pursue solo endeavors." Essentially: The harmony's splitting up. Camila Cabello was the first to leave the group last December, and has since released her first solo album (oh na na na), which means Ally Brooke, Normani, Dinah Jane, and Lauren Jauregui now have the chance to try and strike out on their own. Question is: Who'll be the Harry to Camila's Zayn?