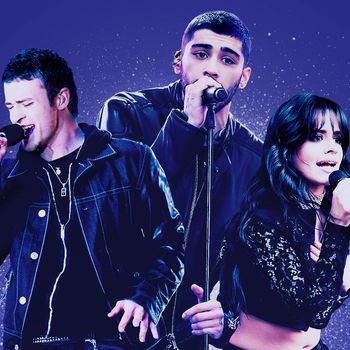 Justin Timberlake, Zayn Malik, and Camila Cabello were the first to leave their respective pop groups.
Photo-Illustration: Maya Robinson/Vulture and Photos by Getty Images
On Monday, the remaining members of Fifth Harmony announced that they would harmonize no more, taking a break to "pursue solo endeavors." Of course, the reason they are the remaining members of Fifth Harmony is that Camila Cabello already struck out for solo stardom back in December 2016, leaving the four remaining members saddled with the mother of all band-name conundrums. Cabello has made the most of her 15 months as a solo artist, releasing a chart-topping album and single, and nabbing an opening slot on Taylor Swift's upcoming tour – a string of accomplishments that's going to be tough for her former bandmates Ally Brooke, Normani, Dinah Jane and Lauren Jauregui to top. It's enough to make you wonder: Does the bandmate who gets a head start on their solo career always ends up winning the breakup? Let's find out.
Fifth Harmony
First to quit: Camila Cabello.
First solo single: Camila Cabello's "Crying in the Club." (While still in the group, she dueted with Shawn Mendes on "I Know What You Did Last Summer.")
First solo album: Cabello's Camila.
Most successful solo career: Camila is walking away with this thing so far, but let's run down the other members' CVs. Normani came in third place on Dancing With the Stars and duetted with Khalid on a song from the Love, Simon soundtrack. Lauren has the highest-profile relationship (with Ty Dolla Sign), a bisexual anthem with Halsey, and an EDM track with Steve Aoki. Dinah's first solo single was a posse cut with RedOne, Daddy Yankee, and French Montana. Ally's team-up with German DJ Topic hit No. 38 on the U.S. dance charts. Early days yet!
One Direction
First to quit: Zayn Malik, who quit the band in spring 2015 so he could "be a normal 22-year-old." The rest of the band went on hiatus later that year.
First solo single: Zayn's "Pillowtalk."
First solo album: Zayn's Mind of Mine.
Most successful solo career: Zayn's got an early lead, with the most chart success — a No. 1 single and album, as well as two additional top-ten singles — and the most tabloid-friendly (former) relationship. But in the long run I'm still betting on Harry Styles, who has the best-reviewed album of the bunch, a burgeoning film career, and more general fan interest. Locked in a race for third are Liam Payne and Niall Horan, whose best-performing singles have both peaked around No. 10 in the U.S. (Team "Slow Hands"!)
The Jonas Brothers
First to quit: None of the brothers ever officially left the band before their 2013 breakup, though each of them pursued separate interests during their early '10s hiatus. For Joe, that was a solo career; for Nick, a new band and How to Succeed in Business; for Kevin, reality TV.
First solo single: I'm going to write off Nick's tweenage Christian-pop era, since it came before the Jonas Brothers' heyday. In that case, credit for first solo single goes to Joe's "See No More" from 2011.
First solo album: If side projects count, it's 2010's Who I Am, by Nick Jonas & the Administration. If not, it's 2011's Fastlife, by Joe.
Most successful solo career: Give it to Nick for sheer versatility — he's equally comfortable starring in Jumanji, treading the boards on Broadway, and posing for aggressively shirtless magazine spreads. And when it comes to ubiquitous latter-day Jonas singles, his "Jealous" peaked slightly higher than Joe's "Cake by the Ocean" (which, yes, is actually a DNCE single, but I'm counting it). Though Joe gets to marry Sansa Stark, which is its own kind of win.
Danity Kane
First to quit: Aubrey O'Day, who was revealed in a 2008 episode of Making the Band to have been fired from the group for being changed by fame. Bandmate D. Woods was let go either at the same time or shortly thereafter.
First solo single: O'Day's "Automatic."
First solo album: O'Day, Woods, and Shannon Bex have all released EPs, but the first proper solo album by a member of Danity Kane was Dawn Richard's Goldenheart, which followed her brief stint in Diddy's Dirty Money. (That was actually Richard's second album; her debut, Been a While, was recorded shortly before she made the band.)
Most successful solo career: Give it to O'Day, whose lack of traditional musical success has not interfered with her knack for making headlines.
The Pussycat Dolls
First to quit: Carmit Bachar, who quit the band in March 2008 to pursue a solo career.
First solo single: Nicole Scherzinger's 2007 single "Whatever U Like," which despite featuring T.I. is not the same song as T.I.'s "Whatever You Like."
First solo album: Scherzinger's debut album was never finished, but her second, Killer Love, still beat her bandmates' to shelves.
Most successful solo career: The rest of the Dolls bristled at Scherzinger's prominence, but none of them would go on to star in the West End production of Cats.
Backstreet Boys
First to quit: Kevin Richardson, who left the band in 2006 to "move on with the next chapter of [his] life." He has since returned.
First solo single: Nick Carter's "Help Me," released when he was still a member of the band.
First solo album: Nick Carter's Now or Never.
Most successful solo career: The Backstreet Boys are a tricky case. Kevin quit the band, but didn't release any music; Nick released music, but didn't quit the band. It's a bit of a moot point anyway, as none of the guys' solo careers have hit the heights that they managed together. If we had to name a winner, we'd probably say Carter, whose singles have performed pretty well internationally. (He had the No. 2 song on the Canadian charts as recently as 2011!) Though recent allegations could hurt his odds. Next would be Brian Littrell, who's had some solo hits on the Christian charts.
'N Sync
First to quit: Though he tried to spin it as the whole group coming together and agreeing to go on hiatus, come on, it was Timberlake.
First solo single: Justin Timberlake's "Like I Love You." (If not "Gone," a Timberlake solo track in all but name.)
First solo album: Justin Timberlake's Justified.
Most successful solo career: Saying Justin Timberlake is the most successful member of 'N Sync is like saying Hamilton is the most famous musical about a treasury secretary.
Destiny's Child
First to quit: LeToya Luckett and LaTavia Roberson were unceremoniously booted from the group in 2000 after trying to get a manager who wasn't Beyoncé's father. (They found out they'd been replaced from the "Say My Name" music video.) Newcomer Farrah Franklin left the group a few months later, though whether she quit under the pressure or was fired remains in dispute. The other three members went on hiatus in 2002, reunited for one more album, then broke up for good in 2005.
First solo single: Michelle Williams got out of the gate first with the gospel single "Heard a Word," released in March 2002.
First solo album: Michelle Williams's Heart to Yours.
Most succe…: I'm going to stop right there. It's Beyoncé.
Spice Girls
First to quit: Geri Halliwell, who left the band in the middle of their 1998 tour.
First solo single: Mel B's "I Want You Back," released while she was still in the group.
First solo album: Geri's Schizophrenic, released in May 1999.
Most successful solo career: Though none of the Spice Girls' solo music ever really took off in America, all of them had at least a few hits on the U.K. charts. (Most goes to Halliwell, who scored four No. 1s from '99 to '01.) But despite releasing only a single solo album, it was Victoria Beckham who came out on top, savvily managing the transformation from girl-group singer to fashion icon to Person Who Is Just Generally Famous. Did you know she was one of only two members of the Spice World cast to be invited to the Royal Wedding? (The other was Elton John.)
New Kids on the Block
First to quit: Jordan Knight, who left the group after their 1994 tour. The rest of the guys soon followed suit.
First solo single: Jordan Knight's "Give It to You," from February 1999. (While still in the group, Donnie Wahlberg duetted with Seiko Matsuda on "The Right Combination.")
First solo album: Joey McIntyre's Stay the Same, from March 1999.
Most successful solo career: Unlike other people on this list, no one in NKOTB was in a rush to get started on their solo career. Both Knight and McIntyre took a five-year break to wait out grunge, resurfacing in the bubblegum era with a pair of dueling TRL hits. But just like the Spice Girls, the most successful New Kid is the one who's had the best career outside of music, Blue Blood-ed burger magnate Donnie Wahlberg.
New Edition
First to quit: Bobby Brown, who was kicked out of the group after an altercation at a 1985 performance.
First solo single: Bobby Brown's "Girlfriend."
First solo album: Bobby Brown's King of Stage.
Most successful solo career: Brown certainly had more chart hits than his former bandmates throughout the late '80s and early '90s, but it feels off to call his story a "success."
The Beatles
First to quit: You could make a case for any of them. Ringo temporarily quit the band in frustration during the White Album sessions, and George did the same during the project that became Let It Be. John left for good in the fall of 1969, but the band didn't tell anyone. Finally, in the spring of 1970, Paul announced the Beatles' breakup in a press release about his solo album, which is very Paul in that he was technically in the right — he had spent the most effort out of anyone trying to keep the band together — but you can understand how it rubbed people the wrong way. For the spirit of this list, I'd say it was John.
First solo single: It's probably John, though depending on how we define it, it's either "Give Peace a Chance" (credited to the Plastic Ono Band) or "Instant Karma!" (credited to John Lennon and the Plastic Ono Band). If you don't want to include Plastic Ono Band at all, it's actually Ringo's "Beaucoups of Blues."
First solo album: Do you count George's soundtrack to the film Wonderwall, released in November '68? Do you count John's first experimental album with Yoko Ono, Two Virgins, which came out later that same year? Or do you count the first "proper" album, Ringo's Sentimental Journey, released a few weeks ahead of Paul's McCartney? (The dueling release dates were the source of a fair amount of intra-Beatle tension at the time, though the two seem to have patched things up.)
Most successful solo career: Conventional wisdom has it that George has the best album, Paul has the most hits, and John has the greatest cultural footprint. But Ringo will always have Caveman.
Verdict
According to these figures, in roughly 6 of the 12 groups was the first member to leave also the one with the most successful solo career. Fifty percent doesn't jump off the page, until you remember that all these bands had way more than two members. The lesson is clear: Leave first, and beat the odds!