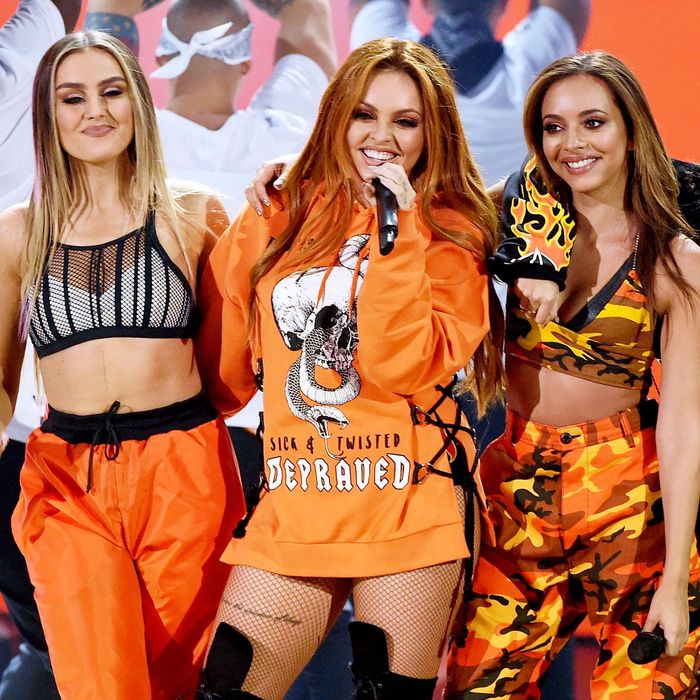 Their time is now.
Photo: Kevin Winter/Getty Images
Well, it finally happened. Fifteen months after Camila Cabello left Fifth Harmony for solo stardom, the girl squad that was once "Better Together" has fully come apart. Dinah Jane, Lauren, Normani, and Ally announced on Monday that they've hit their limits as components within a high-powered pop machine, and are setting out to win the individual fame each of them first sought on The X Factor in 2012.
The news leaves a hole in the hearts of many Harmonizers, and also a question mark on the pop charts. While it's true that the shifting realities of the music industry make pop groups in the tradition of the Spice Girls or Backstreet Boys a dicier proposition than they were pre-streaming, the answer to who will succeed Fifth Harmony has been there all along. Here's why it's time for the ascendance of Britain's own Little Mix.
They're the biggest girl group in the U.K.
As X Factor products in each of their respective countries, making their debuts within a year of each other, Fifth Harmony and Little Mix have coexisted for years. 5H churned out glossy pop bangers with a hip-hop sheen, achieving modest but respectable success on the Billboard charts as America's premiere girl group. Across the pond, Mix have mirrored their rivals' ubiquity and, in some respects, eclipsed it. Though 5H has done better commercially in the States, they've never hit No. 1. Mix, however, has earned higher proportional chart success in their home country, hitting benchmarks in the U.K. that have been in place since the reign of the Spice Girls. There, they've had five No. 1s between the albums and singles charts.
They know how to have fun.
Fifth Harmony's first two albums, 7/27 and Reflection, are treasured by millennials, but how many can confidently say they know anything about the women that made them? The Brits just play this game better. You could ask the question "Which Spice Girl are you?" in the 1990s because you knew what each woman brought to the table. Little Mix carries on the tradition of U.K. singers bringing fans along on their unfiltered party train. It takes a quick Google search to turn up wonders like the Mix ladies drunkenly accepting last year's Brit award for British Single of the Year, which led to Jesy Nelson licking the trophy onstage and proclaiming backstage, "I fucking love these girls." Then there's Perrie Edwards yelling "STEAK TAH-TAH!" before a handler ushered her away from a microphone. They're as manufactured a collective as the rest of their X Factor generation peers, but it's rare to see their shared fun look forced.
They're versatile.
Here's the gag: Little Mix have arguably been the superior girl group this whole time. As individuals, Jesy Nelson, Jade Thirlwall, Leigh-Anne Pinnock, and Perrie Edwards are stronger vocalists than the members of 5H. Their key changes soar higher, their major chords hit harder, and they're more adept at applying cross-genre pop influences that give their songs an anthemic sense of fun. Look no further than their live gospel mash-up of Whitney Houston and Jason Derulo for proof.
Do you need girl-power anthems to run (or cry) to? Try "Salute," "Wings," "Weird People," or "Shoutout to My Ex." Then there are the doo-woppy earworms "Oops" and "Love Me Like You," and the drill-team jams "Stereo Soldier" and "A Different Beat." There are even glorious '90s throwbacks, "Boy" and "Mr. Loverboy," that sound like holdovers from the Save the Last Dance soundtrack sessions. If Fifth Harmony have moved on, it's time to let Little Mix move in.