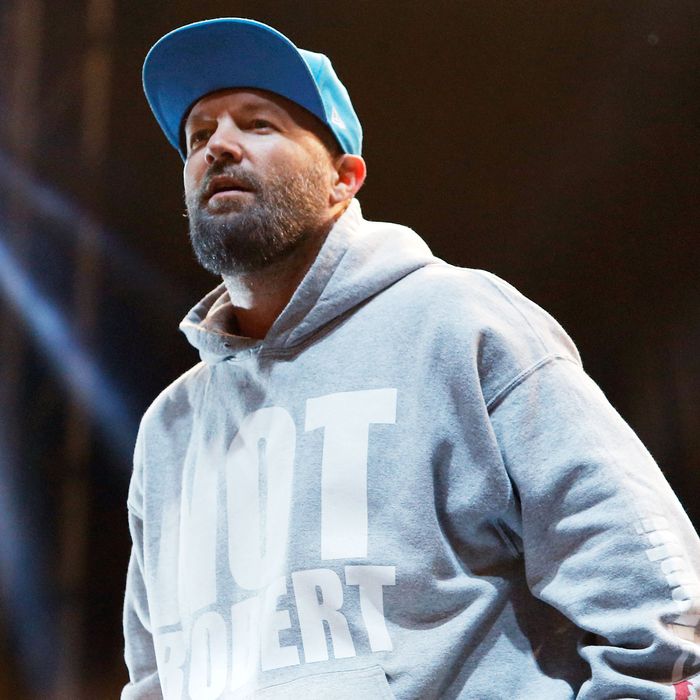 Fred Durst.
Photo: Chiaki Nozu/Getty Images
This week's news that John Travolta would star in Moose — a movie written and directed by Limp Bizkit front man Fred Durst, and loosely based on an incident with a stalker that the rap-rocker experienced years prior — was, to say the least, surprising. Not "Fred Durst is possibly colluding with Russia"–level surprising, but maybe "Limp Bizkit signs to Lil Wayne's former label"–level surprising. Further confusion was created when Variety incorrectly stated in a tweet that Travolta would be playing Durst himself, but fear not: Travolta won't be shopping for fitted red Yankees caps any time soon. He's playing the stalker, with Devon Sawa standing in as Durst's fictional avatar. (Sawa's not new to the realm of angry-white-male music — if you'll recall, he portrayed the titular protagonist in Eminem's "Stan" video.)
Overall, there seems to be a lot of confusion that the man who once rapped that he "met a child molester in Worcester" also knows his way behind a camera. "The Limp Bizkit front man is trying his hand at the film industry," "Page Six" tweeted while addressing the Moose news — but real heads know that Durst's directorial career stretches back to the late 1990s, along with a few acting roles smattered throughout the last few decades. (No, his sex tape doesn't count — even though it's listed on his IMDb page.) "Ever since I was preteen I wanted to direct movies and tell stories," he told us in 2009, and credit where it's due: He's gotten his wish.
While the cameras roll on what will undoubtedly be John Travolta's weirdest gig since covering Bobby Brown's "Every Little Step" with his daughter for the Old Dogs soundtrack, we've compiled an as-definitive-as-possible compendium of Durst's filmography. So come and get it:
Limp Bizkit's "Nookie" Music Video (1999)
Everyone's gotta start somewhere: Terrence Malick had Badlands, Kelly Reichardt had River of Grass, and Fred Durst's auspicious directorial beginnings were … the video for Limp Bizkit's mook-tastic smash "Nookie," from 1999's similarly successful Significant Other. The song itself centers around spurning an ex who, in Durst's words, "treated me like shit," and perhaps the video's overall conceit functions as a misguided take on "living well is the best revenge."
Durst traipses around New York City streets, a growing cloud of women following him; eventually, the women don black garb and Durst's trademark red fitted Yankees cap, rocking out in the type of concert footage that was part and parcel of practically every single rock video from this era. "Guys go off, but girls go off even harder," Durst said of the video's concept in Colin Devenish's 2000 book on Limp Bizkit, titled (wait for it) Limp Bizkit. What a feminist. The clip concludes with Durst getting hauled into a NYC cop car — a premonition maybe, albeit the opposite coastwise, of his 2007 arrest for assault with a deadly weapon in Los Angeles.
Limp Bizkit's "Break Stuff" Music Video (1999)
Is it possible to experience a "sophomore slump" if where you started wasn't very good to begin with? Indeed, Durst's second take behind the cam for the final single from Significant Other is significantly (see what I did there?) lower stakes than what came before it: Functioning as something of a victory lap (Significant Other sold over 7 million copies in the U.S., in case you needed a reminder of how Americans spent money before 9/11), the clip is a coterie of assumed fans and certified celebrities (Eminem! Snoop Dogg! Uh, Richard Lewis!) having good-natured fun to a song that features the lyric, "Don't you know I pack a chainsaw / I'll skin your ass raw."
The clip was shot in noted Simi Valley skate destination Skatelab, which is fine — even if some of the performance footage near the end suspiciously resembles the same location where the "Nookie" clip was shot. Conspiracy, or proof that you shouldn't watch two Limp Bizkit videos in a row? You decide.
Korn's "Falling Away From Me" Music Video [1999]
It's not exactly Pan's Labyrinth or anything, but Durst's work on the video for Korn's Issues (the one with four covers, in case you don't remember — I had the stuffed animal one) single "Falling Away From Me" represents something of artistic growth (wait, don't go!) for the still-budding director. Korn front man Jonathan Davis has been quoted as saying the song addresses domestic abuse, and Durst's vision reflects that sufficiently, depicting a young woman physically abused by her father as she seeks solace in a first miniature, then not-so-miniature Korn trapped inside a music box.
The woman eventually escapes, with the help of a gaggle of neighborhood children as well as Davis himself — but the story doesn't end there: An early version of the video featured a blink-and-you'll-miss-it cameo from Durst, which the "Falling Away From Me" Wikipedia page claims was later removed because (highly unsubstantiated rumor alert) Davis objected to Durst's inserting of himself into the video.
Staind's "It's Been Awhile" Music Video (2001)
Folks, I'm not going to lie: Durst's video for Staind's weepy ballad from the nü-metal sensi-bros' 2001 commercial high-water mark Break the Cycle is insane. Lewis characterized the song as "an acknowledgment of the past" to Billboard that year, and if Durst's video is intended to be a reflection of that past, then I can only assume that Lewis once smoked so many cigarettes that he accidentally burned down his apartment.
The sheer absurdity of the video's plot — arriving close to the tail end of an era when the music industry spent so much money on high-concept music videos that MTV had an entire goddamn TV show centered around the practice — comes across as weirdly visionary, anticipating both the feng shui non sequiturs of Werner Herzog's Bad Lieutenant: Port of Call New Orleans (the Andy Warhol print hanging in Lewis's fictional apartment functions as the equivalent of Herzog's coffee-table iguanas) and the "look at this photograph"-ness of the video for Nickelback's "Photograph" (which, for the record, Durst did not direct). Simultaneously bland and bizarre, the video for "It's Been Awhile" is as much a demonstration of competence on Durst's part as it is a snapshot of an era in music-video history, when major labels gave artists plenty of elbow room to chase their strangest and most potentially off-putting ideas.
Limp Bizkit's "Behind Blue Eyes" Music Video (2003)
Speaking of potentially off-putting ideas: How about Halle Berry lip-syncing to a Limp Bizkit cover of the Who? There were a lot of pop-cultural artifacts from the early 2000s that, even when viewed under the apocalyptically wacky lens that is the late 2010s, boggle the mind due to their sheer existence — and Durst's video for LB's take on the, let's face it, already pretty nü-metal-y Who standard, which (presumably for licensing reasons) you can't even find on the band's VEVO page, is certainly one of those artifacts.
Just in case you risk mistaking Berry for a huge Results May Vary fan, her appearance in this video isn't as inexplicable as it seems, really; the cover is played during in her 2003 stinker Gothika (but isn't featured on the film's soundtrack, strangely), so props to Halle for going the extra mile and making out with Durst in this rote, simplistic mirroring of Gothika's is-she-crazy-or-is-she-not plot. She won a Teen Choice Award for Gothika the following year, and after laying your eyes on this one, you can't say she didn't earn it.
The Education of Charlie Banks (2007)
What if I told you that Fred Durst's debut feature could technically be referred to as "award-winning"? Yes, when his angsty, surprisingly violent coming-of-age drama The Education of Charlie Banks first screened at the Tribeca Film Festival in 2007, it took home the Made in NY Narrative Award, typically given to a narrative film made in the city screened in competition. Good for him! Commercially, the film didn't fare too well: After two years of seeking a distributor, The Education of Charlie Banks unceremoniously received a limited theatrical release in March of 2009 before getting dumped on DVD three months later, racking up a paltry $15,078 gross against a $5 million(!) budget.
Although the film isn't an outright disaster, it's easy to see why it failed to connect with audiences and critics (it currently holds a 47 percent on Rotten Tomatoes); Jesse Eisenberg's neurotic approach is an ill-fitting match for the role of the titular character, and the supporting cast (a typically flat Eva Amurri-Martino, Jason Ritter's somewhat embarrassing overemoting) doesn't fare much better. The film's first half feels static and rote — save for a Razzie-worthy scene in which Eisenberg's Banks tells Amurri-Martino's Mary that he masturbates to the image of her reading Mein Kampf (yes, really) — while the back end is overcharged with violent tension that feels unexpected and unearned. Ultimately, it's almost impossible to watch The Education of Charlie Banks without silencing the voice in the back of one's head that Fred Durst was probably behind the camera during every shot — especially when it comes to the sex scenes between Ritter and Amurri-Martino, which are uncomfortably prolonged and aggressive to the point where you might need a shower to wash off the ickiness afterward.
The Longshots (2008)
The timeline for this one is a little convoluted, so let's lay it out straight: In between The Education of Charie Banks's Tribeca debut and its official release, Durst's second — and, to date, most recently completed — film dropped. A lifeless Ice Cube vehicle that amounts to little more than box-ticking of inspirational plot points, The Longshots draws from the true story of Harvey, Illinois' Jasmine Plummer, who at the age of 11 years old became the first female quarterback in history to play in the Pop Warner Super Bowl.
Despite the creative liberties taken with Plummer's incredible story (the film gives Cube's faded-glory uncle the lion's share of the credit for inspiring Plummer to throw the pigskin, while the real-life account is slightly more complicated), the IRL Plummer gave a thumbs-up to Keke Palmer's portrayal of her. And far be it from me to insult the work done here by the then-14-year-old Palmer (who, fun fact, also hails from Harvey); her natural charisma elicits both sympathy and hope, unmatched by Cube practical sleepwalking through his role. But The Longshots was a nonstarter both critically and commercially, earning $11 million against a $23 million budget. Overall, your reaction to The Longshots might end up similar to Plummer's quote given to ESPN during the film's premiere: "I have some jeans in the limo. Can't wait to get back there."
Ded, "Remember the Enemy"/ "Anti-Everything" Music Videos (2017)
After the gut punch that was Durst's first two feature films, the Hatted One took a nearly decade-long break from being the man behind the camera. This wasn't a period of total inactivity, though: Besides Limp Bizkit's aforementioned signing to Cash Money, he notched a guest spot on House in 2008; co-starred in the action-comedy Play Dead the following year; popped up in Baskets co-creator Jonathan Krisel's 2011 Funny or Die short Ed Hardy Boyz 2: The Case of When That Hot Filipina Girl Lost Her Tramp Stamp at Mini-Golf; and started hosting a jazz night in a magic-themed bar in L.A. Moose is currently filming, and perhaps that's why Durst returned to the director's chair last year, helming a pair of music videos from nü-metal third-wavers Ded.
Sadly, just as nü-metal's heyday has long passed, so has the era in which label budgets allowed Durst to indulge in some of his more, um, eccentric music-video work; so the videos for "Remember the Enemy" and "Anti-Everything," from Ded's 2017 album Mis•An•Thrope, are fairly standard performance clips — just some dudes in a room, the latter applying an exposed-negative-ish filter to said dudes and room. There's no real attempt at style here, which perhaps reinforces why this week's Moose news garnered curiosity to begin with: Who knows what to expect next?