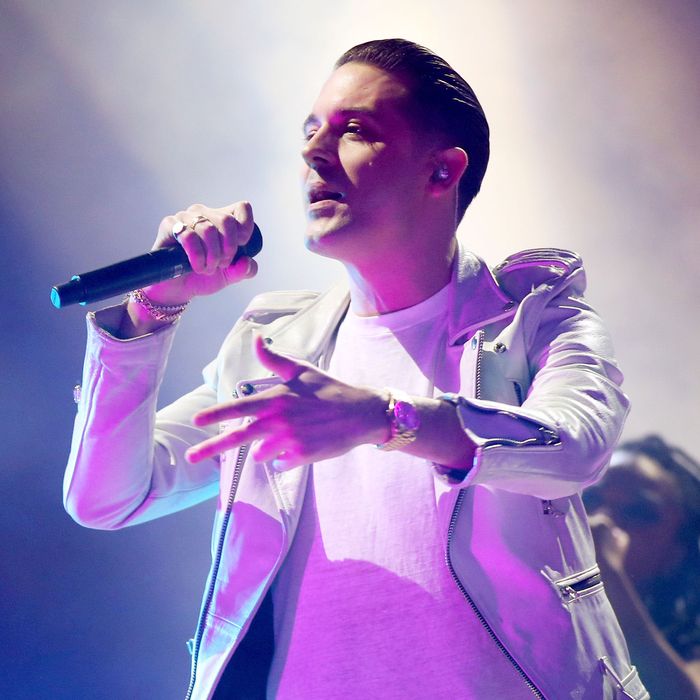 G-Eazy is having a moment.
Photo: Christopher Polk/Getty Images for iHeartMedia
It's not G-Eazy's fault that the most compelling portion of his live show comes when he stops rapping. He's having something of a moment: Fresh off the his third major-label album The Beautiful & Damned and high from the two top-15 hits it spawned, the rapper performed Tuesday night in front of a sold-out crowd at Radio City Music Hall. But for all his contemporary currency, G-Eazy is a product of an old-school aesthetic. The title of Beautiful & Damned is a crib off of F. Scott Fitzgerald, and the artist's physical presentation — his hair slicked back and his tall, lanky frame wrapped in blue jeans and a black leather jacket — harks back to James Dean. When he raps, he does just that: Unlike many rising young artists, his verses are spoken without melody and he relies on a rotating cast of guest vocalists to sing his hooks. But with the sound systems of most venues making it difficult to get one's point across verbally, the emotional moments at Radio City came in the quieter interludes, when we could finally hear what he had to say.
It was mostly about hard work, and hard work paying off. One doesn't sell out Radio City easily, after all. Born Gerald Gillum, the child of Northern California art professors, he earned his reputation in the Bay Area rap scene without the benefit of any shortcuts. Like Eminem, another white rapper, G-Eazy had to prove his worth bar by bar to locals skeptical of pale-faced camp followers. And like Eminem, the time eventually came when his hard-won craft dovetailed with his skin color and sent him flying to the stars. Since the rise of "Me, Myself, and I," a multiplatinum hit from his 2015 sophomore album When It's Dark Out, G-Eazy's become a regular presence on pop radio. Among the many white rappers and quasi-rappers who prevail within the medium, he might be the most gifted and least objectionable. He's become famous enough to take fame as a primary subject. A slightly generic, vaguely louche, but nonetheless palpable magnetism hangs about his figure. It wasn't surprising to find him dating Lana Del Rey, nor to find him moving on from Del Rey to Halsey: "Him & I," one of the two big hits off B&D, is a collaboration with the latter written originally for the former.
The loudest cheers of the night came at the encore, when Halsey emerged onstage to perform their duet. Dressed in a black tutu-like outfit, blonde hair gathered in a tight ballerina-esque bundle, her prefatory speech celebrated her beau in the most glowing terms: no one works harder, and so on. Following her lead, G-Eazy crowed about being presented with his upcoming XXL cover issue backstage before the show. The face of a magazine he had religiously studied for much of his life was now, incredibly, his. Venting in a not-too-aggrieved way his frustration with critics, he mispronounced New York Times music critic Jon Caramanica's last name before dismissing Caramanica's somewhat dismissive opinion of him as unimportant. What mattered were the fans, and he had packed the room with thousands of them. Who could argue with that?
It's important not to underestimate his strengths. Originally a producer, G-Eazy's beat selection is superb, a considerable advantage in an era where lyrics come second to beats. His command of imitating black English is also assured; it's often impossible on Beautiful & Damned to tell his voice apart from Drake's. Like Drake, he has a natural feel for relatable content, for conceits smart enough to be taken seriously but not so clever as to feel beyond the reach of the average listener. On the new album, fame highlights the beautiful, while substance abuse burdens the damned. His political instincts are such that he can make room, in the middle of a set, to compare Trump to Hitler.
There are things, of course, that G-Eazy can't quite access. A ceiling exists to the level of charisma and distinction that any white rapper can achieve, and it's to Gillum's credit that he strives to rise to that maximum without overreaching. Though his biggest song to date, with Cardi B and A$AP Rocky, is titled "No Limit," there are some limits G-Eazy can't surpass. (The surplus of curse words in his speeches feels like a compensation for the one word he can never say.) And he knew not to risk being outclassed at the final concert on this tour by bringing that song's collaborators onstage in their home city to perform it with him. But the fact that he recognizes such limits is the main reason why he's doing as well as he is, and why his upward trajectory isn't likely to stop anytime soon.