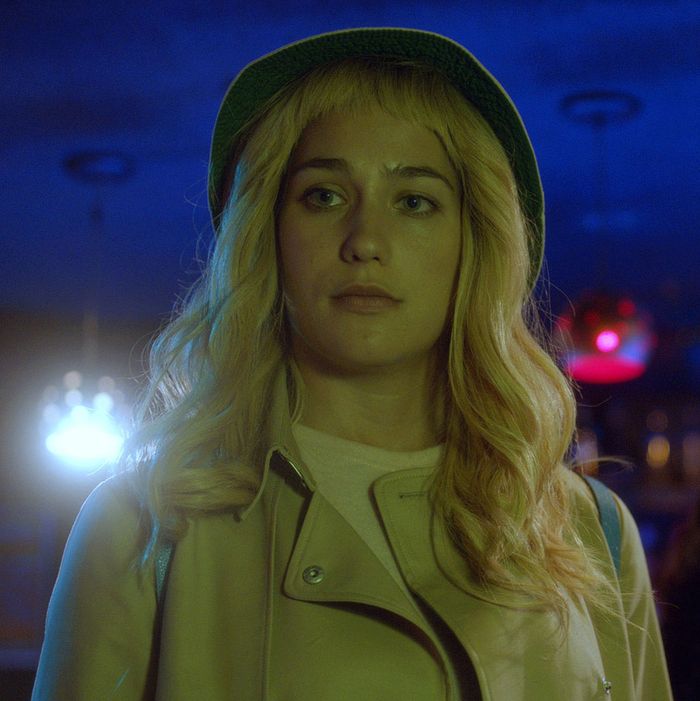 Lola Kirke in
Gemini
.
Photo: Neon
I can think of several kinds of music that encapsulate present-day Los Angeles aesthetically, but Keegan DeWitt's score for Aaron Katz's Gemini makes a compelling case for itself. Over a languorously slow tilt down from a row of palm trees silhouetted in a purply dusk sky, a nervous nu-rave synth line goes on a kind of haunted autopilot, accompanied by a sparse trap beat and a moody, meandering jazz piano. The textures are tough but florid, reminiscent of multiple varieties of smoke rings. It's also unapologetically, poetically synthetic, lacquered like an over-retouched within an inch of its life selfie.
The L.A. noir and neo-noir that Gemini is in conversation with has traditionally been a space for sad sacks and hangdogs, but Katz isn't afraid to embrace shininess. The film opens on a photo-perfect Tesla parked on a residential street, with a disheveled 20-something at the wheel, lit up by the glow of her phone. The car isn't hers, nor is the phone. Jill (Lola Kirke) is a personal assistant — an increasingly popular onscreen vocation for the current generation of aimless millennial protagonists — to a famous actress named Heather (Zoë Kravitz). She's an outsourced second self charged with all the boring parts of being human: keeping track of one's schedule, having bothersome conversations, driving. She's also a confidant, but also more than that: more like a shadow consciousness for another human being.
Heather, we gather from the tattoo on the back of her neck, was born under the film's titular sign of the zodiac, and she's pretty textbook: flighty, almost intuitively manipulative, but still a kind of gentle soul, and she and Jill care for each other genuinely, if not a little lopsidedly. At the moment, she's trying to get out of a film she'd signed on for; she's also maneuvering a tabloid-bait breakup with an angry ex and a secret affair with a K-pop star; and she can't sleep at night. And if she can't sleep, she makes sure Jill can't sleep either. She's also feeling jumpy enough to ask to keep Jill's gun for her own protection, which goes about as well as you're guessing. The morning after a night out, Heather is discovered dead in her palatial house, and Jill is a prime suspect. Of all the people Heather has upset, the lead detective (John Cho) figures, who would actually want to murder her more than her own assistant?
So Jill spends a weird day in L.A. evading the cops and trying to solve the mystery for herself, tracking down the jilted ex, the jilted agent, the jilted director. She changes her hair color, in the grand tradition of Los Angeles women in crisis; she steals a motorcycle. Her search takes her from sketchy hotels to Koreatown malls to the winding roads above Griffith Park. There's a ghostly aura over Katz's L.A., even in broad daylight; the city feels thick with the possibility of double lives. Kirke is an engaging witness to all this mystery, a believably normal gal from Portland who is also clearly experienced at quick and dirty problem-solving.
The film's conclusion leaves a lot to be desired, which is unfortunate given how well it weaves its atmosphere and small ensemble together. Every space in the movie is a little diorama of loneliness, from the echoey atrium where Heather's body is found, to an almost uncomfortably hushed tiki bar. (It's a good place for meetings, Jill notes.) Mutability is a word that kept popping into my head, appropriately enough. Andrew Reed's cinematography and DeWitt's score abstractly communicate something about isolation and the kind of vicarious living that we all do, whether we work for someone or follow them on Instagram. (DeWitt also did the equally evocative but very different score for Alex Ross Perry's Golden Exits.) Katz's script itself lands somewhere more obvious as far as a commentary on celebrity goes. It's a little too coy about what actually happened (which, if I gathered correctly, is kind of crazy) maintaining its glossy chill probably longer than is useful, save for one cathartic punch to the face. But as a mood alone, big or otherwise, it has more substance than it lets on, and Katz's L.A. is a worthy addition to the hazy, palm-tree-lined pantheon.