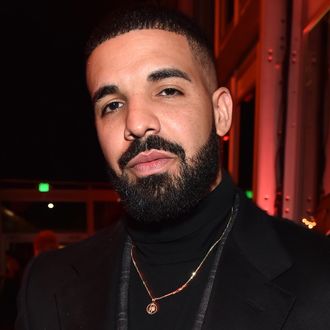 Photo: Kevin Mazur/WireImage
Last summer, The Handmaid's Tale author Margaret Atwood made headlines by suggesting that Drake should get a cameo in Hulu's dystopian series. It looks like she's not the only one hoping for an Aubrey Graham appearance: At Paley Fest in Los Angeles on Sunday, Handmaid's Tale cast members shared their own pitches about how the rapper could possibly appear on the show.
"Who would he play? Maybe Offred's third baby daddy," Samira Wiley suggested to Vulture. "They would [make cute babies]!" As for the chances that Drake might represent his real-life country now that Wiley's character, Moira, has escaped Gilead to head north? "That would be crazy! He's like … Canada," she said.
O.T. Fagbenle, who plays Offred's husband Luke, is no fan of Wiley's idea that Drake should be Offred's next baby daddy. "She has to watch her mouth, I'll tell you that right now," Fagbenle joked. "That's not happening. My wife has been shared enough, thank you very much." The actor has got his own idea anyway: "He's gonna play my brother, what are you talking about?! Isn't that obvious? Luke's brother, the singer, comes into Toronto. I mean, it writes itself."
On the other hand, Madeline Brewer, who plays the handmaid Janine, sees Drake in an authoritative role — preferably one that involves a forbidden romance. "I think Drake could be an Eye or a Commander or something. I'd be into that," Brewer said. "I mean, Janine's always trying to run away with somebody, why not Drake? Why not?!"