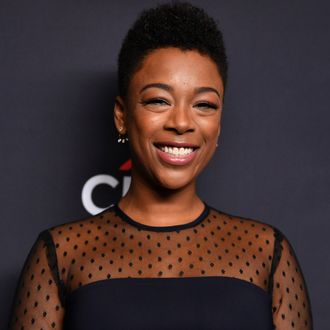 Photo: Emma McIntyre/Getty Images
What's beneath those frumpy red cloaks in The Handmaid's Tale? At the show's PaleyFest event in Los Angeles on Sunday, Vulture did a little investigating to learn how the cast handles its undergarment wardrobe, especially while they're shooting scenes in frigid Canadian climates.
"Granny panties for sure," says Samira Wiley, who plays Moira. "I was really used to it, because on Orange [Is the New Black], we wore granny panties as well." This is perhaps the most comfortable of the choices, as Wiley points out: "The granny panties just go with you. You know, they go up to like right under your breasts … I mean, granny panties, don't knock 'em! They're pretty comfortable."
Option two is layering numerous pairs of long johns. "Because we shoot in Canada usually, real talk, there's a couple layers of long johns," says Amanda Brugel, who plays the housekeeper Rita. "I wish it was sassier, but we're all so cold. There's a lot of long johns, a lot of strategic heat packs taped to our bodies," she said.
Madeline Brewer, who plays Janine, says she typically sports four pairs of long johns under her cloak, while Yvonne Strahovski goes for about five underneath Serena's blue dress — which, by the way, she reveals goes with a "bra that is teal color also." And if it's extra chilly? "I will squeeze every thermal and heating pad that I can find under those dresses," Strahovski says. "Thank God for my cloak. You can hide a lot of stuff under that cloak."