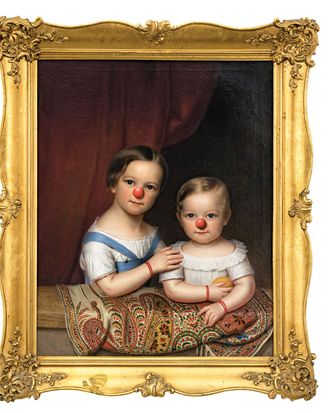 Hans-Peter Feldmann,
Two Girls With Red Noses
.
Photo: John Berens/© Hans-Peter Feldmann, all rights reserved unless subject to written agreement
Hans-Peter Feldmann, a pioneer of artistic appropriation, is one of the least-known great living artists in the world. In America, the freight train of art history jumped the track with Warhol's ironic-sincere, optically hot, conceptually cool, passive-aggressive way of redeploying images. At the same time in postwar Germany, Feldmann was up to something similar — but unlike Warhol, Feldmann, now 77, went full deadpan. He eschewed the staged theatricality and objecthood of painting and didn't make anything at all. Instead in his work he only re-presents things. Feldmann democratizes everyday authorless images culled from magazines, books, advertising, flea markets, and newspapers, grouped by similarity, strangeness, irony, and deep psychology. He's made books and installations of sundry found images of crossed legs, unmade beds, snow-covered evergreens, people on bicycles, farm animals, canceled stamps, and a seagull flying overhead. In 2008, he filled a gallery with 151 international newspapers from the day after September 11, 2001. After winning the Guggenheim's 2010 Hugo Boss Prize of $100,000, he papered a gallery with 100,000 actual dollar bills. At this year's Independent Art Fair, you can behold, at the booth of 303 Gallery, a few of Feldmann's genre paintings; he purchased the canvases at auction houses in Austria, then had the paintings altered by other artists (clown noses painted on two young girls, a lipstick smear on a woman's cheek).
Today, Feldmann can be regarded as Instagram before Instagram; a Borgesian to the core who'd organize the world if given the means; someone ceaselessly grouping things together, pulling images from all over the world to make sight and seeing bottomless.
Independent Art Fair runs from March 9 to 11 at Spring Studios.
*This article appears in the February 19, 2018, issue of New York Magazine.