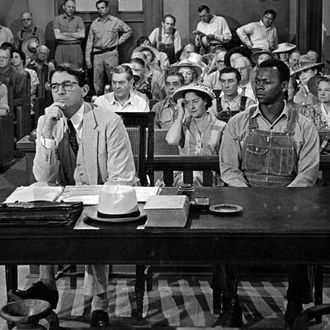 The film adaptation of
To Kill a Mockingbird
.
Photo: Universal Pictures
Broadway's big-name adaptation of To Kill a Mockingbird, written by Aaron Sorkin, starring Jeff Daniels as Atticus Finch, and set to open this fall, has run into trouble with Harper Lee's estate. Per the New York Times, the estate filed a suit Tuesday in Alabama federal court claiming that Sorkin's adaptation deviates too far from Lee's novel, specifically in its characterization of Atticus Finch.
As Sorkin previously described to Vulture (in an interview that has been cited in the lawsuit) the Finch in his script does not always act as a moral exemplar — as he does in the novel — but progressively "becomes Atticus Finch by the end of the play," going from being in denial about Maycomb County's racism to standing against it. To that end, Sorkin said he expanded the role of Atticus's housekeeper Calpurnia, with whom he "has a kind of running argument." Tonja B. Carter, the lawyer running Lee's estate, claims to have been shocked by Sorkin's changes. "Atticus Finch is portrayed in the novel as a model of wisdom, integrity, and professionalism," the suit claims. Producer Scott Rudin defended the changes to the Times by pointing out that, "I can't and won't present a play that feels like it was written in the year the book was written in terms of its racial politics: It wouldn't be of interest." Rudin added that he was surprised by the estate's objections, since Carter had been involved in the publication of Go Set a Watchman, which depicts Finch as racist.
Before her death, Lee signed a contract authorizing the play in June 2015, and Carter had previously met with Rudin to discuss "concerns about the script," but the parties did not come to any agreement. In response to the suit, Rudin issued a statement noting that Lee's estate has a history of litigious behavior, claiming that the estate's action is "an unfortunate step in a situation where there is simply artistic disagreement over the creation of a play that Ms. Lee herself wanted to see produced, and is the kind of disagreement which one expects would be worked out easily between two parties who have a mutual interest in seeing a work produced." The statement continued: "While we hope this gets resolved, if it does not, the suit will be vigorously defended."