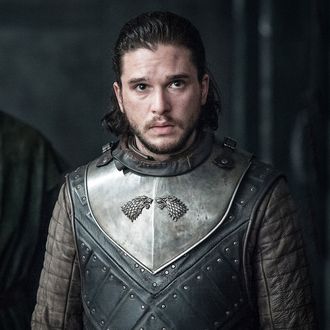 Jon Snow doesn't come cheap.
Photo: HBO
One HBO executive is getting candid about the hits the network's budget is set to take in the coming year. Speaking on a panel in Jerusalem, HBO drama chief Francesca Orsi said that "from a budget standpoint going into season two of Big Little Lies without any options in place we've been … um … short of raped." Since HBO didn't plan for a second season, reports have said that stars Reese Witherspoon and Nicole Kidman were able to negotiate significant raises based on competing salaries at rival networks (particularly Witherspoon's big paychecks at Apple), as have the rest of the women in the cast. HBO programming president Casey Bloys added, "As a show goes on they get more expensive and as shows get more ambitious they will get more expensive. More money doesn't always equal better but in some cases the scope of ideas do require it."
The execs also noted that HBO is facing a budget "conundrum" with Game of Thrones, if it decides to green-light any of the five planned spinoffs. "If we do take off on one of these Game of Thrones spinoffs, where do we start? We can't obviously start with the budget of season eight but would it be a Game of Thrones season three budget?" Orsi said. Still, Bloys noted that it would be "corporate malfeasance" not to extend the franchise. Heading into the original series' final half (which has reportedly ballooned to over $15 million per episode), both execs say to prepare yourselves for plenty of bloodshed. Per Deadline, Orsi and Bloys said they attended the "sweat-drenched" table read in Northern Ireland for the final episodes, and vaguely teased that "many" of the characters will die.
Update, 3 p.m. ET: Orsi has issued a statement to The Hollywood Reporter walking back her use of the word "raped." "Obviously, I am embarrassed by my poor choice of words. We are extremely proud of Big Little Lies and excited for the second season," she says. She also confirmed to THR that the BLL cast had to sign new deals to return.