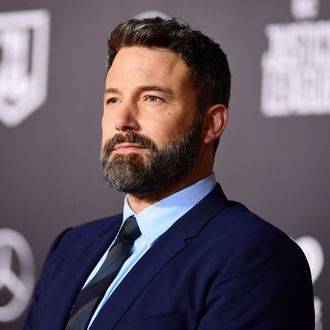 Affleck.
Photo: Emma McIntyre/Getty Images
A curious coterie of actors was spotted roughhousing on an Oahu beach last Thursday. Ben Affleck, Ben Affleck's back tattoo, Oscar Isaac, Charlie Hunnam, and Garrett Hedlund had a romp in the sand, preparing for their new movie Triple Frontier. Take a minute to scroll through the photos of abs and pecs in the hot sun, of course, but do not overlook Ben Affleck's majestic back tattoo. At long last, lover, you have revealed yourself to us! After years of saying that the rumored ink was "for" a "movie," the beach pics do not lie: The tattoo that Jennifer Garner resents and Jennifer Lopez detests is, in fact, real!
Triple Frontier, directed by J.C. Chandor (A Most Violent Year), will follow five friends uniting to take down a South American drug lord. According to Deadline, the beach boys (Affleck, Isaac, Hunnam, and Hedlund) will star alongside Pedro Pascal and Adria Arjona. The script was in developmental limbo for some time, with Casey Affleck and Mahershala Ali once attached to star alongside the elder Affleck. Per Deadline: "[Ben Affleck] put in the rehab time and is in shape, as evidenced by paparazzi pictures of the new cast as they've trained on the beach in Oahu, where they now begin shooting March 26." Thank you, Triple Frontier, for letting Batfleck's back tat see the light of day!