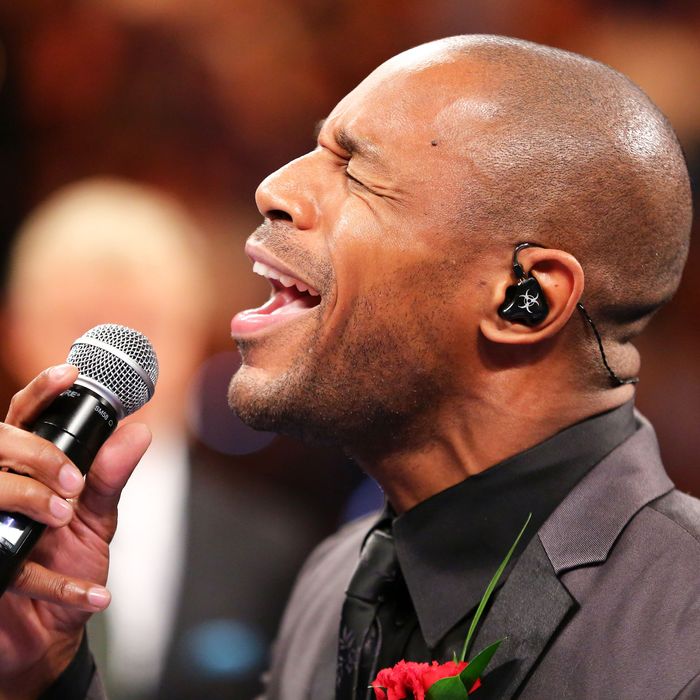 Singer Tank performs the national anthem before the Floyd Mayweather Jr. and Canelo Alvarez title fight on September 14, 2013, in Las Vegas, Nevada.
Photo: Al Bello/Getty Images
In 2017, the singer Tank went into Spotify's headquarters to meet with Mjeema Pickett, the streaming service's global programming head for R&B. "They couldn't believe — and I couldn't believe — my streaming numbers," Tank says. "They were like, 'It's crazy, because your ratio of listens to downloads is phenomenal: When a person hears your record, they snatch it and put it on a playlist.' I'm like, 'You know I'm over 40, right?'"
Tank is now 42 and full of cheerful quips like, "Tuesdays and Thursdays I'm the handsomest guy in town, still working on the other days of the week." He celebrated a new milestone in February by earning his first-ever gold-certified single (500,000 units) with "When We." In the streaming era, which elevates young acts at the expense of everyone else, a gold certification for a 42-year-old is a remarkable accomplishment. It's especially rare for an R&B singer, since Tank and his peers are primarily heard on the radio format known as Adult R&B or Urban Adult Contemporary, which is usually ignored by the majority of mainstream gatekeepers on the airwaves and at other media outlets. In the last three years, just one other Adult R&B singer over 35 — a formidable group that includes Mary J. Blige, Maxwell, Alicia Keys, and Janet Jackson — has earned a gold plaque: John Legend with "Love Me Now." But he also had significant support from pop radio; Tank's "When We" did not.
Tank's late career breakthrough signals a potential path into the streaming era for R&B acts of his generation. "You become a 42-year-old R&B singer and everybody says, 'You're old, start doing as many shows as you can with Frankie Beverly and call it a wrap,'" Tank says. "We didn't want to give up. We wanted to keep changing the perception of where R&B can live."
That perception has altered radically since Tank released his debut album in 2001. Tank works in the tradition of Beverly or Teddy Pendergrass, talented singers who — through no fault of their own — never crossed over to a pop audience but enjoyed successful careers anyway. Beverly's funk outfit Maze achieved nine gold albums without launching a Top 40 single. Pendergrass did even better, achieving four gold albums and four platinum albums without a nod from the Top 40.
Sales tend to ensure longevity in most genres of commercial music, except perhaps indie rock, but to achieve Pendergrass-level numbers now, with album buying down across the board, R&B acts can't rely on selling music solely to the core R&B audience; they must gain support from outside that ecosystem. However, pop radio's willingness to play R&B fell off in the late 2000s and remains low, and "urban" radio is dominated by rappers, so avenues of exposure are limited. Younger singers can circumvent this cruel game by streaming, but few older artists get traction on streaming services. (That's true across genres — older listeners are slow to adopt new technology.) So veteran R&B singers must depend on Adult R&B radio, touring, writing songs for other artists and singing hooks for rappers.
Despite this frosty climate, Tank has hammered away for nearly two decades. He has managed just one Top 40 hit, the self-abasing confection "Maybe I Deserve." But he has 19 Adult R&B hits over nine albums (eight solo records and another as a member of the trio TGT with Ginuwine and Tyrese), five of which went No. 1 on Billboard's Top R&B/Hip-Hop Albums chart. His triumph is Sex, Love & Pain — richly upholstered, melody-drunk, full of unnerving leaps from rapturous delight to debilitating despair — which marked the singer's return to recording in 2007 after a five-year hiatus caused in part by contract disputes. In addition, he has an impressive array of songwriting or production credits. The same year that "Maybe I Deserve" became a hit, Tank helped write songs on Aaliyah's double-platinum Aaliyah album. He went on to write on Omarion's O (gold), Jamie Foxx's Intuition (platinum), Keyshia Cole's A Different Me (platinum), and more.
Tank's high points have won him famous fans. In 2011, the producer Noah "40" Shebib told GQ that the opening of Sex, Love & Pain influenced the creation of Drake's breakout hit, "Best I Ever Had." Speaking last summer, Ty Dolla $ign called Tank "a monster," "one of the best male singers out" and "a fucking beast." "He sent me a song to hop on," Ty added. "I don't even know if I was ready for it, to be honest." (Ty eventually appeared on the "When We" remix, released on Valentine's Day, along with Trey Songz.) Priscilla Renae, who has written for Mary J. Blige and Mariah Carey, identified Tank's "Maybe I Deserve" as possibly "the last great R&B song." "I'm sure there are some [songs] that I'm forgetting," she continued. "But that was one of the recent ones that was a classic song that will never go away."
"Tank is probably the only artist who can go do a show with Frankie Beverly and host the hottest club in the city that night," adds J. Valentine, who's been writing songs with Tank since 2003 and executive produced his 2017 album Savage. "[He can] have a song with Jacquees [age 23] but still be respected by Mary J. Blige [age 47]. He lives in all of those worlds."
Despite that versatility, Valentine talks of "the ceiling that people were putting on [Tank's] career." "The only people that are affected by that are people in black music," he continues. "These platforms that we've been trying to appease forever [radio, formerly MTV]: [They say] somebody can only do one thing. You're too old, too young, always too something."
Grace James, vice-president of marketing at Atlantic Records, describes Tank's battle for exposure as "a modern David and Goliath story — except David has muscles." In this scenario, Tank recognized that streaming could serve as his slingshot. "We are now in the process of teaching people what streaming is," he says. "On his first tour in the summer, we created these cards that educated an adult audience about streaming and how you could pay $9.99 or less to get everything from Tank," James adds. "Because he was championing that, his fans followed him."
Timing was important too: Last year, the company Midia Research suggested that 2018 would mark the beginning of the "maturation phase" of the paid streaming era, in which the use of streaming platforms expands beyond the narrow range of the first adopters (dubbed "young and male music aficionados") and the second wave (25–35-year-olds) to "widen out the [user] base on either side." As a larger chunk of the "adult R&B" demographic (25–54) begins to adopt these services, their core artists should start to see a boost in streaming. And these new potential streamers are dedicated listeners used to letting an entire album play through rather than grazing. As a result, "We can see how [Tank's] skip rates are super low," Spotify's Pickett says. "We can see that they're listening to the playlist and saving from there or making their own playlists [with his songs]. We watched his audience grow."
Combining streaming maturation with Tank's educational efforts means that "radio's not the only game in town anymore." "[Before] there was only one set of stations that would play my music, and after that, there was no place to hear things," the singer says. "Now people are allowed to fend for themselves. 'I'm feeling moody right now — let me throw on some Jodeci.'"
In a world with more choice, plenty of listeners throw on Tank. Pickett, who is shocked to learn that Tank is 42 ("He's like your hip older brother!"), recently made the singer the face of Spotify's biggest R&B playlist, Are & Be, which has more than 4 million followers. (Out of 50 songs, Tank and Tamar Braxton account for the only two tracks made by acts 40 and up.) "When We" has already accumulated close to 100 million streams when you add up Spotify, Apple Music, and YouTube.
Crucially, the single has also been well received by younger listeners. That's in part because "When We," produced by Cardiak, sounds ready to scrap with any hip-hop single. On YouTube, it triggered the creation of user-generated content, which is unusual for a record that started on Adult R&B. One dance choreography video sports close to 8 million views. "That wasn't paid promotion or something the label went after," James says. "Younger fans were gravitating towards it on their own. That's when I knew there was something going on." Now, according to James, radio research is showing "When We" as a potential top five record for 16–24-year-olds. The single enjoyed its biggest streaming week to date last week, more than eight months after its release.
All this momentum means that Tank's peers are taking notes. The singer recalls Quinnes "Q" Parker from the multi-platinum group 112 telling him, "I wouldn't have the balls to put that record out. You took a shot, and it's making a difference for all of us." Tank hopes those ripples grow into a wave. "I want artists from my generation to not feel like it's over," he says. "As long as you still have a story, a fire burning in you, you can rock — I'm living proof."