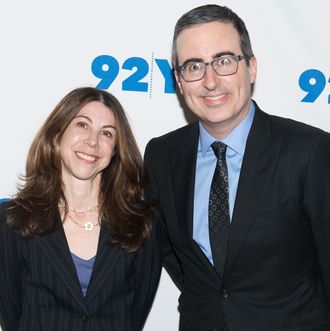 Nell Scovell and John Oliver.
Photo: Noam Galai/Getty Images
"Can I try out some jokes on you?" Nell Scovell asks us backstage at 92Y before her interview with Last Week Tonight's John Oliver about her new memoir, Just the Funny Parts … And a Few Hard Truths About Sneaking Into the Hollywood Boys' Club. She whips out a couple of handwritten notes and rattles off a few jokes about Dustin Hoffman, whom Oliver notably confronted about sexual-harassment allegations at a panel in December.
Onstage, Oliver introduces Scovell with praise for her "constantly funny" book, which gives an inside look at the writer's 30-year career, including gigs writing for Spy magazine, Vanity Fair, The Simpsons, Murphy Brown, Late Night With David Letterman, and Sabrina, the Teenage Witch, which she also created. Scovell, who has written jokes for everyone from Miss Piggy to President Obama but has never tried her hand at stand-up, takes her seat and gets right to the jokes she wrote backstage.
"I was a little nervous coming here tonight, but I was having coffee with my friend Dustin Hoffman and he said: 'Don't worry, it'll be fine!" Nell says to a laugh while Oliver pretends to squirm and cover his face with her book.
Scovell, who was described in New York Times book review as "a few biological tweaks" away from being Conan O'Brien, grew up in Massachusetts, attended Harvard (though never wrote for The Lampoon), and started as a sports writer before making her mark as often one of the only women in the writers room at many beloved TV comedies (she joked that an alternate title for her book was Penis, Penis, Penis, Me, Penis). Although Just the Funny Parts isn't a how-to guide for young women working in the industry, Scovell's experiences have made her a primary source for discussing equality in the workplace, having also co-written Sheryl Sandberg's 2013 book, Lean In.
Oliver came to know Scovell through their mutual friend Tim Carvell, a showrunner for Last Week Tonight, and asked her to help them staff up in an inclusive way. Scovell has a keen eye and what seems like good luck when it comes to identifying talent ("I encouraged [Carvell] to be a TV writer and now he has ten Emmys. I have zero," she noted). Jill Twiss, one of the writers Scovell suggested for LWT after following her on Twitter, is now a staff writer and the author of Oliver's book about Mike Pence's gay bunny that's currently a No. 1 best seller.
While Scovell may not be a household name, her fingerprints are all over pop culture. Three of the shows she's worked on — Murphy Brown, Charmed, and Sabrina, the Teenage Witch — are currently being rebooted ("It's the golden age of no new ideas," Scovell jokes). Oliver notes that Scovell seemed to have kept all of her notes, pictures, and alternate scripts, but Scovell didn't always think she'd write a book; she kept them because she thought her success would be fleeting.
"I mostly kept things because I thought TV would evaporate at any moment and I wanted proof that I had been there, so it was completely out of insecurity," Scovell says backstage. "The average career span for a TV writer is 11 years. The only other thing I could find that had the same career span was a police dog. And that's like 77 years!"
In Just the Funny Parts, her encounters with comedy greats like the Smothers Brothers and David Letterman are colored by the fact that she's the only woman in the room. Upon writing her first-ever spec script for TV's It's Garry Shandling's Show, the late Shandling told her "You write like a guy," the highest possible compliment at the time. Growing up with funny aunts and watching Gilda Radner and Laraine Newman perform on Saturday Night Live and Joan Rivers guest-host The Tonight Show meant it never occurred to her that women weren't funny, she tells Oliver. Ever practical, she approached writing jokes for President Obama's Correspondents Dinner by thinking of him as any sitcom character ("He's the leader of the free world and he lives with his mother-in-law," she quips).
As a freelancer on the second season of The Simpsons, Scovell wrote the iconic blowfish episode, in which Homer eats the poisonous fish and is told he has 24 hours to live. Scovell tells Oliver about an alternate ending scene that didn't go over well with the male writers room: Homer races home to have one last "intimate" night with Marge, which then cuts to the two of them staring at the ceiling as Marge says, "It's understandable — you're under a lot of stress." Anecdotes like that one show the subtle (and not-so-subtle) ways Scovell used gender politics in her writing. "One of the things I want is for men to read this book," Scovell says backstage. "Come for The Simpsons, stay for the feminism."
Scovell's knack for turning tough situations into comedy is at the root of her memoir. Oliver notes that the moment he laughed the hardest was also one of the toughest to read: Scovell's "Me Too" story about an inappropriate encounter with her former boss Jim Stafford some 30 years ago at a wrap party for The Smothers Brothers Comedy Hour. Talking to Oliver, Scovell joked that Bill Cosby and Harvey Weinstein have "raised the bar" for how terrible men can be, but still finds it important to add her voice to the chorus of women who are speaking out against any inappropriate behavior from men in power.
"It doesn't just drive away women, it drives away good men," Scovell says. "That behavior needs to be made socially unacceptable. It needs to be like farting in public. If you rub a woman's shoulders, it's like ripping a huge fart. Everyone should look at it and go 'Ew!'"
After the talk, Oliver reads Scovell a few questions from audience members off of index cards. One asks, "What's your favorite Simpsons episode?" Scovell thinks for a beat.
"That would be 'The Substitute Teacher.' Who was played by …"
Oliver fake-cringes.
"Dustin Hoffman!"