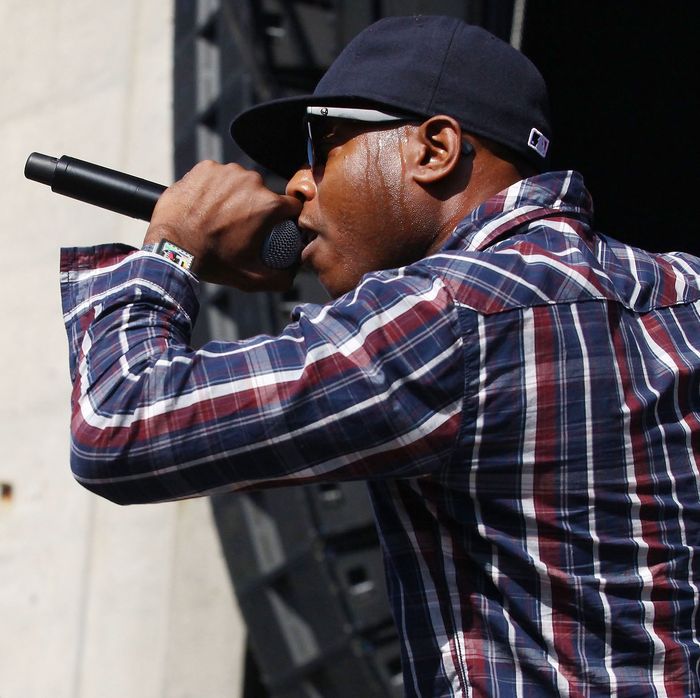 Common and Talib Kweli perform during the 2009 Rock the Bells concert at the Nikon at Jones Beach Theater.
Photo: Astrid Stawiarz/Getty Images
Last week, the veteran rapper and activist Talib Kweli published a long, carefully reasoned essay about the uses and abuses of free speech by white supremacists. Weighing in at over 3,500 words, "Free Speech or Die?" goes into meticulous, almost attorney-like detail about the difference between speech illegally censored by the state and speech legally contested by citizens, between unprovoked physical assault and physical assault directed at adherents of an extremist ideology that openly preaches genocidal violence, between college campuses and public spaces. Yet its ultimate point is clear and convincing: What the white power movement seeks is not the freedom of speech enshrined in the Constitution, but a freedom to speak without any negative consequences whatsoever.
Kweli had some occasion to write at such length. He had recently entered the headlines by canceling a show in Kansas City after learning that his venue there would also be hosting a concert by a Norwegian black metal band known for its flirtation with Nazi iconography and racist rhetoric. Sparked by antifa activists, the furor would ultimately lead to the black metal band nixing their American tour altogether; the band released a statement portraying Kweli as someone "easily manipulated by others to dance to their tune." His essay was an attempt to set the record straight. Contrary to the image of him presented by the band, Kweli could think and speak for himself regarding his position on everyone's right to speak.
Unexpectedly but not shockingly, one of Kweli's fellow rappers found himself in the news the following weekend for speaking up as well. Performing at the Oscars, Common used his time onstage to call out Donald Trump for his anti-immigrant policies and the National Rifle Association for its obstruction to quelling gun violence. Kweli and Common weren't just any pair of outspoken rappers. Together with Kweli's Black Star partner Mos Def, they were the hip-hop artists most closely aligned with the Soulquarian collective of the late '90s and early 2000s that included neo-soul luminaries such as Erykah Badu and D'Angelo, producers of the caliber of Q-Tip and J Dilla, not to mention Questlove and the Roots. Standing proudly at a distance from the gangster rap dominating the airwaves and charts of the era, the clique put forward an ideology centered on raising political consciousness and cherishing black cultural identity that, though hardly able to compete with hard-core rap commercially, made waves far beyond the confines of a niche audience. On the 25 episodes of the first two seasons of Chappelle's Show, 40 percent featured a Soulquarian as musical guest; Common, Kweli, and Mos Def all appeared on Kanye West's The College Dropout, and West would produce the majority of Common's 2005 opus, Be.
But by then, the circle had largely drifted apart, and with more than a decade dividing the present from the heyday of the Soulquarians, it's tempting to write the group off as a thing of the past. Neither D'Angelo nor Badu releases music with any frequency; Kweli, Common, and Mos are more likely to be heard of through the news for matters unrelated to actual music than for their new albums; the Roots have settled for a reliable, lucrative gig as Jimmy Fallon's house band. It's hard to dispute that the members of the collective are past their artistic prime. Yet the cogency of Kweli's essay and the power of Common's speech suggest a somewhat different story: in many ways the times haven't left the Soulquarian crew behind so much as the Soulquarians have slowed down enough for the times to catch up to them.
The self-serious fusion of culture and politics that seems to have become a prerequisite for superstar artists today is a practice in which Kweli and Common's collective has extensive experience, and its members' influence on many of the most critically acclaimed cultural figures in the present is blindingly evident. The jazz and funk inflections and the ultradense production of Kendrick Lamar's To Pimp a Butterfly owes a great debt to D'Angelo's own sophomore masterpiece, Voodoo, as well as to his more recent Black Messiah. Ta-Nehisi Coates named his first book, The Beautiful Struggle, after a Talib Kweli album. Erykah Badu coined the current usage of the word woke in 2008. Vince Staples is signed to a music management company founded by Kweli. With its juxtaposition of personal tenderness, black nationalism, and a tone that doesn't shy away from the didactic, Solange Knowles's A Seat at the Table is very much a chip off the old Soulquarian block.
The profiles of the group's original members may have faded, but the refined and heavy sense of responsibility they introduced has grown into an atmosphere whose air is breathed by every producer and consumer of culture with even the slightest aspiration to being thoughtful or timely. Such an attitude isn't always maximally entertaining, but it's always prepared to uphold its beliefs. It's no accident that Common's Oscar-nominated song was titled "Stand Up for Something," and in an era where, as Kweli's essay notes, reactionary rhetoric and violence is surging, it's not hard to argue that firm principles should take priority over simple enjoyment.