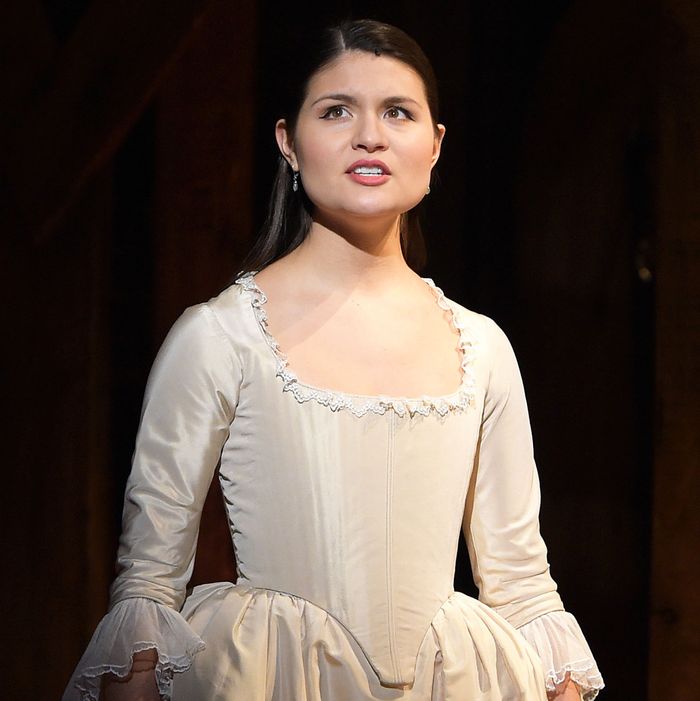 Phillipa Soo as Eliza Hamilton.
Photo: Theo Wargo/WireImage
Earlier today, it was announced that Hamilton received 13 Olivier nominations, becoming the most-nominated show in the history of London's biggest theater award. Which, we would be lying if we said didn't feel a little like winning the Revolutionary War all over again. Like, Hey, we created this musical about how we kicked your asses, and the only British character — a king — is a foppish joke, then when we brought it to your country, you thanked us for it. USA USA USA. So, the 13 nominations included three for Supporting Actor (Michael Jibson as King George, Jason Pennycooke as Lafayette/Jefferson, Cleve September as Laurens/Philip); one for Supporting Actress (Rachel John as Angelica); two for Actor (Giles Terera as Burr, Jamael Westman as Hamilton); Outstanding Achievement in Music (Lin-Manuel Miranda), Choreography (Andy Blankenbuehler), Lighting (Howell Binkley), Sound Design (Nevin Steinberg), and Costume Design (Paul Tazewell); Best Director (Thomas Kail); and Best New Musical. Which is great — congratulations to those people — but we want to focus on the nomination the show didn't receive: Best Actress in a Musical. Sample size for theater awards is inherently small, but this is just the latest in a trend — Eliza gets screwed.
Things started well enough for the role, with Phillipa Soo winning Lead Actress in a Musical at the Lucille Lortel Awards in 2015 for the show's Off Broadway run, but that was essentially where the role's awards success ended. Soon after, Soo wasn't included in the show's 13 Drama Desk Award nominees and she wasn't nominated for the Drama League Award either, while Miranda and Daveed Diggs were (since that award only has one acting category that includes both musicals and plays, and men and women, it's not tremendously representative). Soo was nominated for a Tony for Best Actress, and it was the only acting category the show didn't end up winning (to be fair, she went up against Cynthia Erivo's getting-standing-ovations-mid-show run in The Color Purple). And now the Oliviers. Again, we are aware this data would not prove to be statistically significant, but when laid out, it does feel significant.
There's just a lot working against the part. It's a bit of a tweener. It is a lead role, but it doesn't really feel like it, as the primary story is Alexander Hamilton versus Aaron Burr. It's not really supporting though, as she is present throughout the entire musical, and in many ways ends as the show's protagonist. It's not like the roles of Angelica, Washington, Lafayette/Jefferson, or King George where they each have their distinct moments and then get out of there. Musically it is the most traditional of the main parts in the show. She doesn't rap. "Helpless" is infinitely charming, but ultimately gets overshadowed by "Satisfied." "Burn" is great. Nothing wrong with "Burn," but there are just other moments in the show you rank above it.
Eliza's songs are also emotionally more simple than her counterparts. In this song, she's happy. In this one, she's annoyed. In this one, she's sad. In this one, she's sad. In this one, she's sad. Also, she's arguably the most grounded of the characters. Even though a song like "Burn" could be a real barn-burner, like how Andra Day performs it in the Hamilton Mixtape, it wouldn't make sense for Eliza to really go off in the show because she is written to be prim and emotionally stable. She's also written to have a bit of woman-in-a-mainstream-comedy vibe, always trying to get the lead to have less fun (in this case, working is Hamilton's fun). More than anything, Eliza feels like a fairly traditional musical part, and people nominating Hamilton are doing so because it's revolutionary, pun not intended.
There are no small parts, only small actors, but there are parts that are less fun to give awards to. Eliza is one of them. Considering her character's whole thing was not caring about her legacy, it seems fitting. Eliza is a thankless part, portraying a woman who seemingly wasn't thanked that much. In that way, theater awards have told her story.