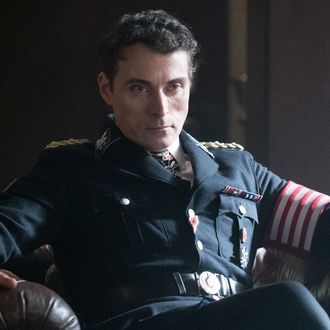 The Man in the High Castle.
Photo: Amazon
How many people watch a show on Amazon Prime may matter less than when those people sit down and stream it, according to an analysis of internal Amazon documents obtained by Reuters. The news outlet says it has reviewed company memos detailing the cost and viewership of nearly two dozen Prime exclusive series, including Transparent, The Man in the High Castle, and the short-lived Good Girls Revolt. But more interestingly, Reuters also discovered a key measurement tool it says Amazon uses to evaluate a show's success, something it calls a "first stream" — i.e., the first Amazon original series that a new subscriber watches after signing up for the service.
Amazon execs, Reuters says, believe the first series you watch after signing up deserves the credit for luring you to Prime (whether you liked the show or not apparently doesn't matter, nor is it clear whether you need to finish a full season of a show for it to count). Unfortunately, Reuters chose to only publish a fraction of the data it says it obtained, making it hard to draw any broad conclusions about the relative success or failure of Amazon shows. It does note that the first season of The Grand Tour had 1.5 million first streams and The Man in the High Castle drew 1.15 million first streams for its debut season. By contrast, the quickly canceled (and lightly promoted) Good Girls Revolt was responsible for turning just 52,000 Amazon customers into Prime members.
Reuters also published audience sizes for several shows, but it didn't say whether its figures measured the average audience per episode or simply how many people watched a single episode of a series, nor what sort of time frame was measured (the first month a show was available, or cumulative consumption of a show from its premiere date through early 2017, the date on the obtained documents). As a result, it's impossible to accurately compare viewer data for the Amazon shows with broadcast or cable numbers.
For what it's worth, however, Reuters says the data show the first season of High Castle drew about twice as many viewers (8 million) as season one of Transparent, and that the third season of Transparent supposedly drew less than half as many viewers (1.3 million) as season one. If Amazon's numbers measure viewership within, say, the first three months of a show's release, then this would indicate Transparent lost a big chunk of its audience over time. But if the figures for Transparent season one include everyone who's watched between its 2014 premiere and early 2017, then the stat published by Reuters is meaningless, since the season-three numbers would only include, at most, the few months of audience consumption following its fall 2016 debut. Vulture reached out to Amazon Studios to see if they would clarify the Reuters number or confirm their accuracy. The company, however, declined to comment on the report.