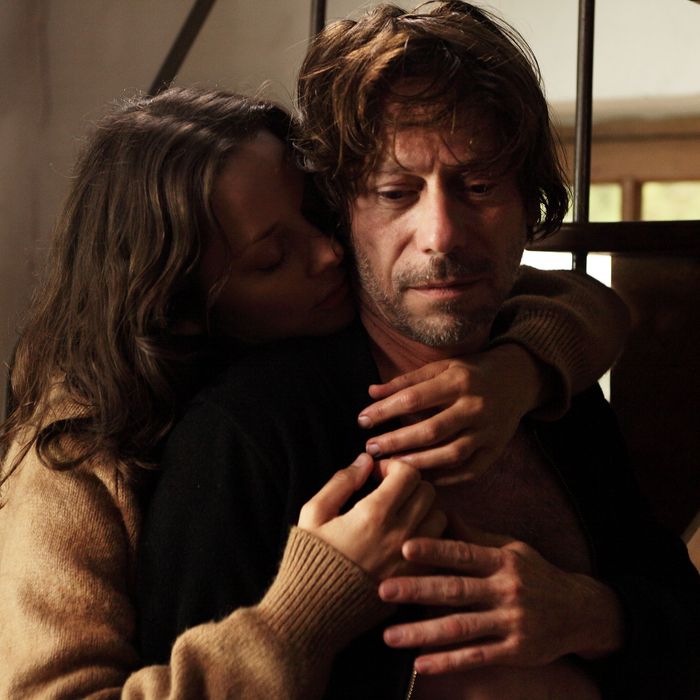 Photo: Jean-Claude Lother/Magnolia Pictures
Sometimes, the imperceptible hand of fate has a way of pushing great collaborators together. Legend has it that the Japanese virtuoso Toshiro Mifune was just trying to report for handyman duty when he accidentally got in the wrong line and delivered the audition that wowed Akira Kurosawa, earning him his breakout role in Drunken Angel. Harrison Ford was working as an on-set carpenter when George Lucas plucked him from obscurity for a career-making turn in American Graffiti. This is how Arnaud Desplechin and Mathieu Amalric found one another.
The Frenchmen met as directing peers in 1990, working out of different editing suites in the same building while Desplechin completed his debut La vie de morts and Amalric wrapped up his short Sans rires. "I asked [Amalric] to come and visit me to discuss working together, and to test him with several actresses," recalls Desplechin, speaking on the phone from his home in France. "He was sure this meeting was to be hired as a first [assistant director], so he started to give the lines to the actresses, and I told him I wanted him for the main part. Suddenly, he became blank. I told him, 'Don't be afraid, I won't shoot you in close-up. I won't record you anywhere but from the back.' But after a couple runs, he said it would be okay to turn the camera on him, and I told him I didn't need to. I already knew he'd be perfect."
Amalric would go on to establish a respectable career as a filmmaker in his own right, but to devotees of international cinema, he's primarily the wild-eyed actor who brought tittering, anxious life to Desplechin's work. The director's little star-is-born ambush landed Amalric the lead role in 1996's magnificently titled character study My Sex Life … or How I Got Into an Argument, which led to appearances as a divorcé losing his grip on sanity in 2004's Kings and Queen, a boozy black sheep in family drama A Christmas Tale four years later, and now Ismael's Ghosts. Their latest team-up gets a long-awaited American release this Friday following a slightly controversial premiere at Cannes Film Festival back in May (more on that in a moment), and more than simply the fourth Desplechin-Amalric effort, it's a culmination of their mutually adoring partnership. For a film about a man plagued by his own history, they jointly excavated the past they share.
Amalric takes the title role of Ismael Vuillard, a frustrated cineaste who shares a name with the character Amalric portrayed back in Kings and Queen. As we first join him, he's preparing to begin production on an espionage-ish picture centered on a much sought-after figure named Ivan Dedalus (played in Ismael's imagination by Louis Garrel, son of the great director Philippe, adding another layer of meta-text). It's no coincidence that Amalric's character in My Sex Life… was named Paul Dedalus, or that both men could both be related to fiction's most famous Irishman. Desplechin enjoys reconfiguring his own ideas to gain a better understanding of his own pet themes, rather than working in explicit autobiography.
"[Ismael's Ghosts] is in conversation with [Desplechin's] obsessions," Amalric explains at the Loews Regency Hotel's bar on a foggy morning. "He created puppets that each awaken a different piece of his personality."
"I can't say I put myself in the main character," Desplechin confirmed, "because I put myself in every character. They each contain different pieces of myself." So, which piece of himself does Ismael contain, then? "He is exceeding in everything. He drinks too much, he smokes too much, he has too many wives. He is overdoing it all over."
Another character freighted with nods to the past enters Ismael's life and prompts a bit of long-overdue introspection for the man. At the beach one afternoon — a location that also serves a crucial function in My Sex Life… — Ismael's wife Sylvia (Charlotte Gainsbourg) encounters her spouse's first partner Carlotta (Marion Cotillard), despite the fact that the woman was thought to have died 20 years earlier. She's another phantom, not just for Ismael and not just for the lingering spirit of Hitchcock (in Vertigo, Jimmy Stewart's character fears the unrestful spirit of one Carlotta Valdes). It was Desplechin who cast a then-unknown Cotillard, barely out of her teens, in My Sex Life… as one of Paul's many romantic opposites.
The faintly melancholy poetry in the way Desplechin talks about the Cotillard he helped break out versus the globally renowned starlet with whom he reunited two decades later hints at his fixation on time's unstoppable passage. "She's not the same woman she was when I first met her," he reflects. "It is her greatness as an actor to constantly reinvent herself with each new role. In La Vie En Rose, for me, she was unrecognizable. She's a completely different actress now. I think that's how she's gotten so popular in America: this idea of the second chance, an ability to create yourself, this is an American ideal."
Desplechin's most hard-core fans can get lost unraveling the inside references and how they speak to the psyche he puts on full display, but that same insularity made this film a difficult sell in the cinema marketplace. The extreme self-referentiality can be alienating to those not in the know, and Desplechin's tendency to shoehorn in as many genres and tones as a run time can sustain didn't make matters easier. Advertising a hectic combination of supernatural thriller, ribald sex comedy, and a contemplative meditation on aging is no simple task, and the trailer can't help but flatten out this film's appeal into something a touch more familiar. Desplechin wishes the studio types weren't so skittish. "Everyone is always scared when I am first showing the movie," he says, "because it contains so many stories. So each time, I like to warn the audience that the film might look like a maze, but the feelings the characters have — grief, mostly — are very simple."
His primary squabble with the suits, however, concerned the film's length. A high-profile Cannes premiere would be essential if Ismael's Ghosts was to build any buzz, but the cut that played on the Croisette had been slimmed down by 20 minutes, ditching some vital bits of backstory for Ismael. This truncated edit will play in France, and as Desplechin tells it, the 115 svelte minutes will leave room for more screenings per day and more earning potential. But he's reluctant to call the 135-minute version soon to open stateside a director's cut. "I don't believe in director's cuts," Desplechin flatly declares. "There is the film, period, the one that you saw."
Desplechin still remembers the post-screening press conference at Cannes, where he didn't know what to tell journalists confused about logistics of plot that had been disorganized by the cuts. One could get the impression that he's a little salty over the bastardization he describes as "dis-approved," but he's worked long enough that he can maintain perspective about hassles such as this. "I know film is an industry, and I have to play the game," he concedes. "If I didn't, I'd go be a writer. What's the line from the Clash? I fought the law, and the law won. Sometimes you are winning, and sometimes the law is winning. Either way, I accept it peacefully."
Easy for him to say — he's the real winner here. The unexpurgated Ismael's Ghosts exists, and the people who want to see it badly enough will be able to do so. And they're out there. Desplechin created them by constructing a body of work that rewards close attention over a long timeline, that brings viewers into a single world connected not by Easter eggs but by wormholes through a moral or existential dimension. He's made the story of his ongoing dynamic with his muse Amalric into the most fascinating narrative of all, letting the public watch as these two men grow together and challenge each other to do and be more. Ismael's Ghosts finds them working more harmoniously than ever before, though it's not like they're joined at the hip or anything. To hear Amalric describe it, their relationship sounds a little more French than that.
"We're not close friends," Amalric admits. "We're like an old couple, who decide for love to continue, it's better to sleep in different beds. Maybe different apartments. We don't call each other or have lunch together, and in this way, we keep the mystery alive."