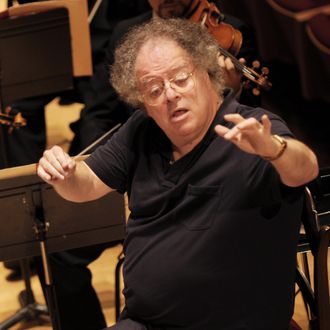 James Levine.
Photo: AFP/AFP/Getty Images
Days after he was fired over sexual-abuse allegations, former music director James Levine is suing the Metropolitan Opera, according to the New York Times. The lawsuit is seeking more than $4 million for breach of contract, damages, and defamation, and notes that Levine "unequivocally denied any wrongdoing."
The famed conductor was ousted on Monday after the institution's investigation concluded that there was "credible evidence that Mr. Levine engaged in sexually abusive and harassing conduct toward vulnerable artists in the early stages of their careers, over whom Mr. Levine had authority."
In Levine's suit he puts much of the blame for his firing at the feet of Peter Gelb, the Met's general manager. Labeling the allegations against Levine as "vague and unsubstantiated accusations in the press," the suit argues:
It was only upon learning that the allegations would be published in the press that the Met and Gelb, cynically hijacking the good will of the #MeToo movement, brazenly seized on these allegations as a pretext to end a longstanding personal campaign to force Levine out of the Met and cease fulfilling its legally enforceable financial commitments to him.
Levine spent more than four decades with the Met and conducted 2,500 performances. His name and reputation were so deeply connected with the institution that, as Justin Davidson noted, the Met might not survive the fallout, and many have been left wondering what management and the board knew about Levine and when.
The Met responded to the suit with a statement denying Levine's claims. Lawyer Bettina B. Plevan told the Times, "The Met terminated Mr. Levine's contract on March 12, following an in-depth investigation that uncovered credible and corroborated evidence of sexual misconduct during his time at the Met, as well as earlier." She added, "It is shocking that Mr. Levine has refused to accept responsibility for his actions."