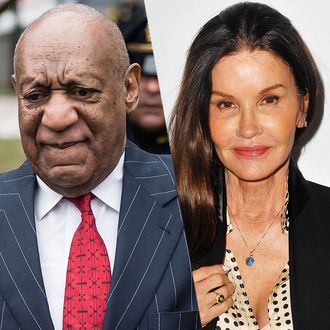 Former model Janice Dickinson will be among the five women testifying against Bill Cosby during his trial next week. The 80-year-old stands accused of three felony counts of sexual assault. Dickinson, who is suing Cosby over defamation in a civil trial in California, will share her accusations that the now-80-year-old drugged and raped her in a Lake Tahoe hotel room in 1982.
Lisa Bloom, Dickinson's attorney, said that her client has been waiting for "decades" to have her say against Cosby in a criminal court.
The Pennsylvania Appeals Court has denied the defense team's attempt to overturn Judge Steven O'Neill's decision to allow five "prior bad act" witnesses in Cosby's much-anticipated felony sexual-assault trial in Philadelphia. Cosby has been accused of drugging and sexually assaulting Andrea Constand, a former Temple University employee, in his suburban Philly home in 2004. The first trial ended in a hung jury in June of 2017.
All week during pretrial hearings, Cosby's defense team has been pressuring Judge O'Neill to step down from the case, citing bias because his wife works with sexual-assault victims at the University of Pennsylvania in Philadelphia. The defense has been delaying the case and likely will continue to do so today, the final day of pretrial hearings at the courthouse. It's expected that O'Neill will make his decision about whether he will or will not step down as early as today.
Cosby has pleaded not guilty to charges and remains free on bail.