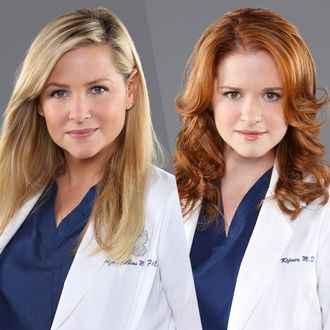 Capshaw; Drew.
Photo: ABC
Veteran Grey's Anatomy cast members Jessica Capshaw and Sarah Drew are leaving the show. Deadline reports their exits were "based on the show's creative direction." Capshaw has played pediatric surgeon Dr. Arizona Robbins for a decade; Drew has played trauma surgeon Dr. April Kepner for nine years. "The characters of Arizona and April are permanently woven into the fabric of Grey's Anatomy thanks to the extraordinary work of Jessica Capshaw and Sarah Drew," co-showrunner Krista Vernoff said in a statement. "As writers, our job is to follow the stories where they want to go and sometimes that means saying goodbye to characters we love. It has been a joy and a privilege to work with these phenomenally talented actresses."
Kapshaw and Drew addressed news of their exits in a pair of Twitter statements. "For now, I'd like to say: I love you, and I love April, and her story isn't over yet," Drew wrote. Capshaw praised her character as being one of the first LGBTQ characters in a series-regular role on network television. "Her impact on the world is permanent and forever. Forever," she wrote.
Shonda Rhimes echoed Vernoff's appreciation: "It's always hard for me to say goodbye to any of my characters," she said in a statement. "Both Arizona Robbins and April Kepner are not only beloved but iconic — both the LBGTQ and devout Christian communities are underrepresented on TV. I will be forever grateful to both Jessica and Sarah for bringing these characters to life with such vibrant performance and for inspiring women around the globe. They will always be a part of our Shondaland family." Though Grey's has not been officially renewed for a 15th season, Ellen Pompeo recently signed a new two-year deal.