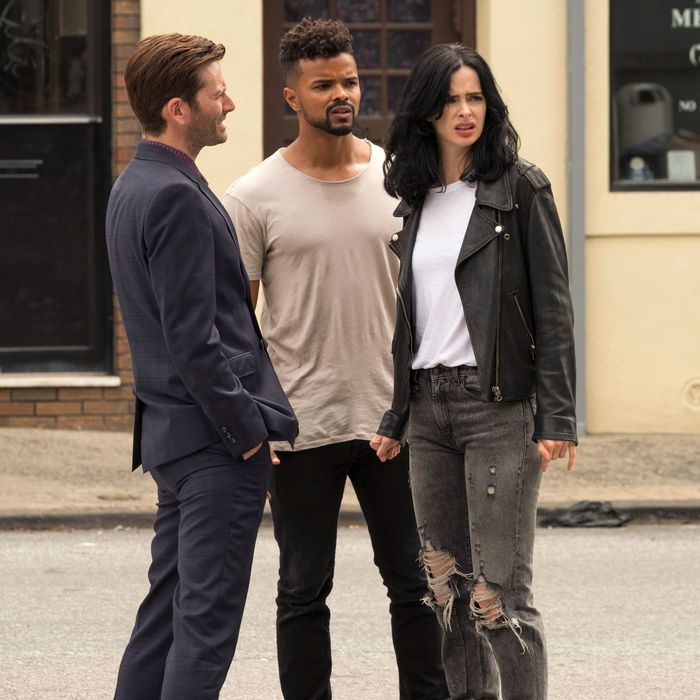 Ignore Kilgrave, look at the jeans.
Photo: Netflix
I judged Jessica Jones's jeans prematurely. Writing about the superpowered private detective's return to Netflix a few weeks ago, I noted that Jones "still appears to possess exactly one pair of pants." This was not true. (Blame screener sites, and reportorial laziness.) While our heroine's favorite light-wash jeans still make plenty of appearances in the second season of Jessica Jones, they're joined by a bunch of new pairs — "definitely three, if not four," in the estimation of the show's costume designer Liz Vastola.
Before we get to the new jeans, though, Vastola has a word of defense for the old ones, a controversial pair of Citizens of Humanity boyfriend jeans that Jones wore in every episode of season one, as well as in The Defenders. "The way that Jessica approaches what she wears, it's a miracle if she really cares what she's wearing," she says. "Those jeans made sense for her in the first season. They occupy a space that's not entirely on-the-nose fashionable." There's an element of security to them, Vastola says, which is why Jessica keeps wearing the ensemble even during a summer heat wave: "She wouldn't let go of it. She would just be hot and miserable."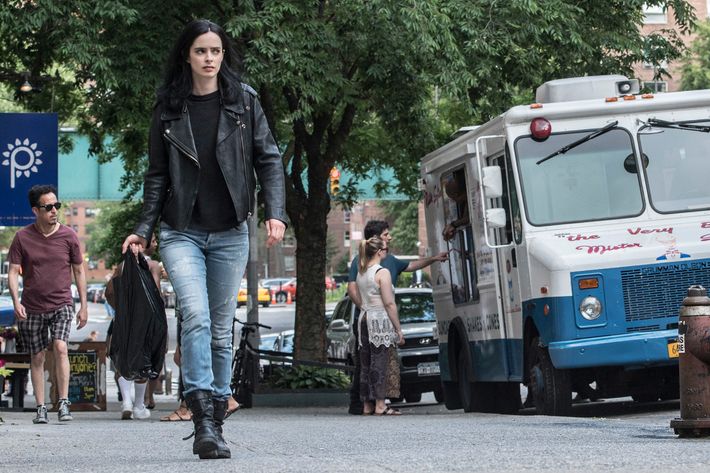 For a show as action-packed as this one, there was also a practical element to Jessica wearing the same jeans all the time. "They had a stretch to them that was able to withstand a certain amount of rough wear," Vastola says. "We made peace with them in a similar way that Jessica makes peace with them."
But enough about the old jeans. Ever since Vastola signed on for the second season, she envisioned expanding Jessica's wardrobe beyond her trademark outfit. "Her jeans take a lot of very visceral damage this season," she says. "There's a lot of blood. Her family's ashes. There's an episode where she's burning the clothing that she has on. That felt like the most natural point to find something new." Vastola says she's "a big fan" of the new jeans, which have "very little stretch, more natural-looking rips." Here's the story behind the new denim.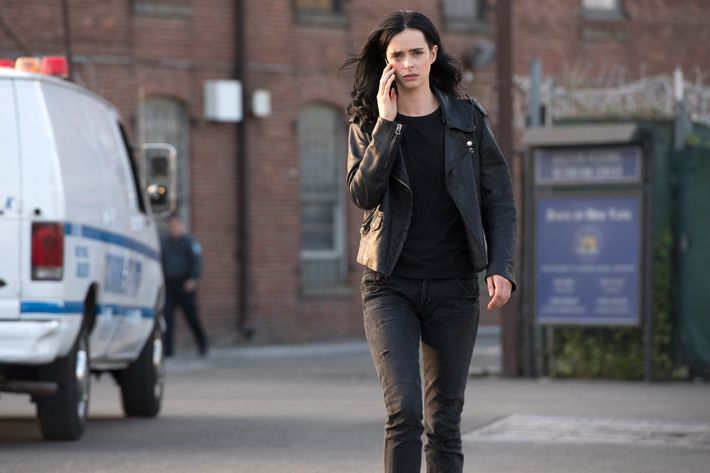 The Black Jeans
One of the biggest shocks of Jessica Jones's second season — besides the reveal that [REDACTED] is actually [REDACTED] — comes early in episode two, "AKA Freak Accident," when Jessica breaks out her first pair of black jeans. (She accidentally wears them to a shiva.) Though these jeans also come from Citizens of Humanity, when paired with a black leather jacket and a black T-shirt, they give off a slightly different vibe from her usual ensemble. Vastola says that the show uses them when Jessica needs to be sad, or when Jessica needs to be stealthy. "It's like her version of a superhero suit," she says. "It's darker, it's easier to sneak around in, and it feels a little bit more rough."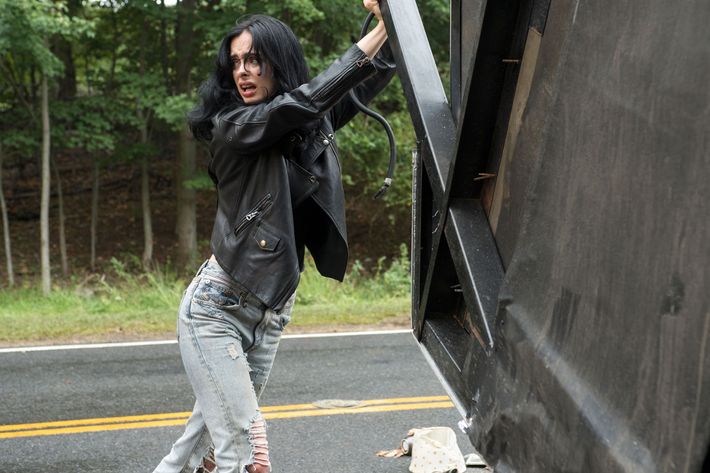 The Stunt Jeans
"I'd love to say that everything is poetic and character-based, but on a show like these Marvel Netflix shows, you really have to pay attention to what the clothing needs to endure," Vastola says. One extremely distressed pair of washed-out boyfriend jeans is particularly suited for action scenes: It's a looser fit, especially around the hip and the knee, which helps hide stunt padding on Krysten Ritter and her double. Plus, Vastola says, "I kind of prefer the color to her Citizens. It's not as cheery of a blue. It's definitely a little more intense-feeling."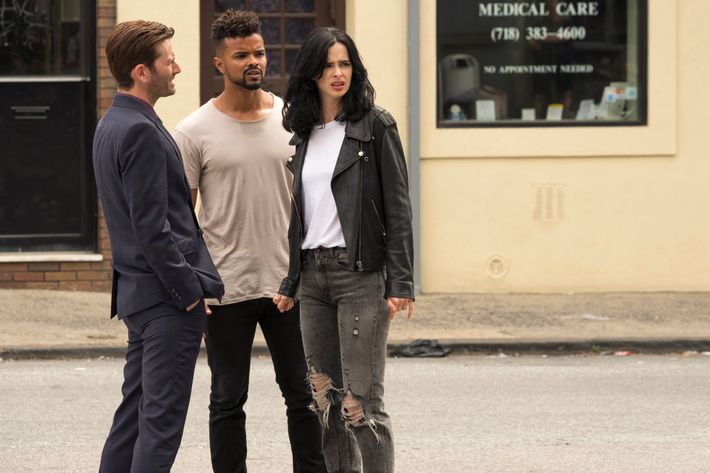 The (Other) New Jeans
Most of Jessica's new denim comes from a New York denim company called R13. "The line itself is a little more self-aware than Jessica is, a little more self-conscious in terms of the New Age grunge kind of look," Vastola says. "It just so happens that they have a really rugged, plain, boxy look that fit Krys beautifully."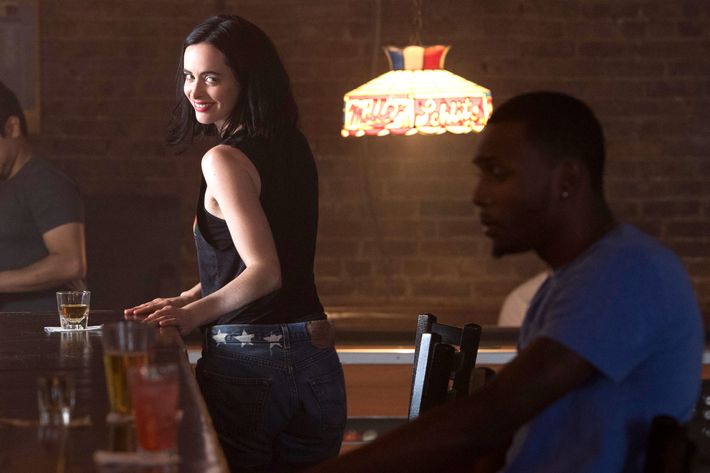 The Flashback Jeans
One of the standout episodes of the new season is "AKA I Want Your Cray Cray," which takes place in a flashback to the mid-2000s. (The exact year isn't specified, but the vibe is very Pop Culture Died in 2009.) Since production had to create multiple versions of the same outfit for stunts, they couldn't rely on vintage stores too heavily. Instead, they sourced period-appropriate clothes from Urban Outfitters and Barneys. (That the mid-2000s look is slowly coming back in style surely helped.) Other times, they just made the clothes themselves. "Certain things for Jessica, we saw something and printed it ourselves to make it work more for her," Vastola says. Trish's clothes, which were "directly inspired" by outfits that Christina Aguilera, Beyoncé, and Britney Spears were wearing at the time, were also mostly made "from scratch."
One last thing: If you've been reading Vulture's Jessica Jones recaps, you may have seen someone in the comments purporting to be the show's costume designer. Vastola confirms that was indeed her; she sees the comments as a way to let the public know what her job is all about. "There are some shows where actors walk into the trailer, pick out what they're going to wear for the day, and that's that. Essentially, you're a glorified shopper," she says. "But on a lot of shows, contemporary costume designers do a lot more than people think. You need to stand up for yourself."