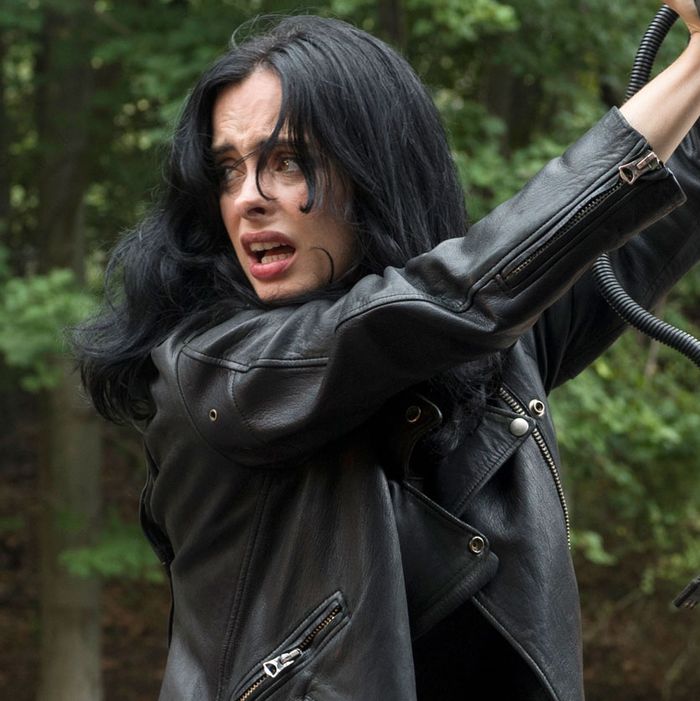 Jessica Jones's jeans, looking particularly distressed.
Photo: David Giesbrecht/Netflix
It's been almost two-and-a-half years since Marvel's Jessica Jones first premiered on Netflix, and while plenty has happened in the real world, it's like no time has passed at all in the fictional Hell's Kitchen of the show. The superpowered private eye is still drunk and surly, unsure of how she got her powers, and she still appears to possess exactly one pair of pants. But these are not just any pants. To quote the rapper Baby Triggy, "Oh, my, look at those jeans."
Let's talk about those jeans. In every episode of Jessica Jones and Marvel's The Defenders, our heroine sports a pair of jeans that beg for comment. It's not just that she wears them all the time — there are plenty of TV characters who only wear jeans without it becoming a thing — it's also that the jeans are, well, they're weird. Jones favors slim-cut, moderately distressed, light-wash denim that seems to exist in some strange Bermuda Triangle of fashion: They're definitely not in style, not quite normcore, but clearly not Old Navy, either. These are expensive jeans trying to look like cheap jeans, and somehow coming out the other end looking neither expensive nor cheap. Just … off.
The jeans have inspired some viewers to append the word "ass" to all manner of adjectives, "nasty-ass" and "dirty-ass" being particular favorites. But they have also inspired countless questions. Today it is my journalistic duty to answer all of them.
Is this one pair of jeans, or multiple pairs of identical jeans?
As Krysten Ritter explained during a panel at BookCon with Vulture's Abraham Riesman, she does in fact wear multiple pairs of jeans on the show. The precise number seems to be around 20, if you count the ones worn by the stunt doubles. Much like a pair of twins, the jeans possess minute differences barely visible to you and I, but quite apparent to the woman who knows them best: "One is little bit tighter than the other."
Who makes the jeans?
Per season one costume designer Stephanie Maslansky, Jones's favorite jeans come from Citizens of Humanity. (She credits designer Jenn Rogien for creating the specific outfit Jones wears.) The brand has since stopped making the exact cut seen in the show, but these slim-fit boyfriend jeans appear to be a close match.
So I can't get them myself?
You could try looking on Amazon, but it might be slim pickings: Maslansky told Fashionista that, after the original jeans were discontinued, production snatched up every pair they could find online. All the distressing was done in-house.
Wait, they're meant to look like that?
Indeed. In that Fashionista interview, Maslansky said she wanted Jessica to dress like someone who was devoting the bare minimum amount of brainpower to her clothing choices. She imagined the genesis of the outfit: "[Jessica] went to the store and said, 'I'll take three of those and that way I don't have to think about it.' … She wears one of three pairs every single day, depends on which one is cleanest."
At BookCon, Ritter said something similar. "I didn't ever want her to change her clothes," she said. "Just like real life, your jeans live on the ground, you put them back on. She has a self-inflicted uniform because that takes out 15 minutes of her day thinking about what she's going to wear."
It's definitely a strong choice.
Well, that's TV shorthand for you. As Ritter told the crowd at BookCon, "She doesn't give a shit about her jeans." She explained that every part of Jessica's wardrobe was designed as a kind of subconscious armor protecting her from unwanted attention. Take, for example, Jones's usual leather jacket (which comes from Acne, if you're curious): "It's too big for me. The pants do nothing. The boots are flat and practical. The T-shirts do nothing for me."
Does Jessica Jones ever wear a different pair of pants?
Yes, though you could be forgiven for missing it. In an interview with Entertainment Weekly, Maslansky pointed out that a season-one flashback to Jones's pre-Kilgrave life featured her in a slightly more put-together look. She still wore slim-fit boyfriends from Citizens of Humanity, but this time, they weren't light blue — they were black.
Last question: Is all this attention on Jessica Jones's clothing choices … maybe … kind of sexist?
Oh dear. I don't know.
That's not much of an answer.
I think if we follow this line of discussion, it could turn into one of those internet debates where one side says focusing on the jeans is sexist, but the other says that fashion is a valid subject of discussion and so aren't the people who think it's frivolous the real sexists, and in the end maybe it's a little too much weight to put on a lighthearted post about ugly jeans.
They are very ugly.
Yes, they are.
* This post has been updated to clarify that Stephanie Maslansky was the costume designer for only Jessica Jones's first season.