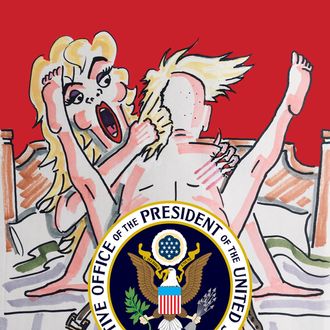 Jim Carrey, painter, has surpassed the persona of Jim Carrey, thespian, in recent months, and his work is apparently so popular that famous athletes from all of the country want to swing by his studio and take a look at his creations for themselves. But why make a trek to the Los Angeles metropolitan region when Carrey's paintings are available on the worldwide web for no cost at all — although, depending on your political leanings, you may find his work to be far too gauche for your taste. We'll cut to the chase, since we know why you clicked this link … that's because Carrey has taken a keen, recent interest in lampooning Donald Trump and his family through highly stylized paintings.
Exhibit A: An enraged Trump pinching his nipples while eating ice-cream. "Dear Smithsonian National Portrait Gallery, I know it's early but I'd like to submit this as the official portrait of our 45th President, Donald J. Trump," Carrey tweeted this week. "It's called, 'You Scream. I Scream. Will We Ever Stop Screaming?'"
Exhibit B: Brothers Donald Trump Jr. and Eric Trump getting impaled by an angry elephant's tusks in matching safari clothes. As Carrey reckons: "#teamelephant."
And who could possibility forget about Exhibit C: Trump having a little bedroom fun with a blonde.
Or even Exhibit D: Trump having a nice scrub in a sewer.
Trump family aside, Carrey has also dabbled in criticizing everyone from Mark Zuckerberg to Sarah Huckabee Sanders to Marco Rubio in his artworks. (Although he's happy to paint his heroes every now and then, such as Stephen Hawking a few days after his death.) We're not sure if they're for sale, but you can always ask him.