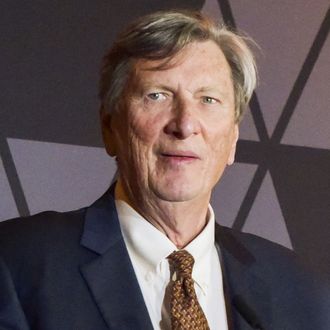 John Bailey.
Photo: Rodin Eckenroth/Getty Images
Earlier this month, the Academy of Motion Picture Arts and Sciences revealed its current president, cinematographer John Bailey, was the subject of a sexual-harassment probe. Without going into specifics, the Academy stated they received three separate inquiries detailing alleged harassment from Bailey, and promptly opened an investigation. Now, in a memo to his staff obtained by Vanity Fair, Bailey is strongly defending himself from the claims. "There was a single named complaint regarding an allegation dating back more than a decade ago in which I am alleged to have to attempted to touch a woman inappropriately while we were both riding in a transport van on a movie set," he said. "That did not happen." He also denied there were three allegations, as the Academy originally stated, but only one.
"The media reports describing multiple complaints made to the Academy about me are false and have served only to tarnish my 50-year career," Bailey continued. "The fact that the existence of an allegation even became public thwarts the confidential review process that the Academy adopted and is supposed to follow when receiving complaints." Bailey remains optimistic, though, that the Academy will quickly clear him of any wrongdoing: "Because I know the facts, I expect they will conclude that there is no basis to take any action against me." As Vanity Fair notes, the next scheduled Academy board meeting is March 27, where the subject will likely be broached.