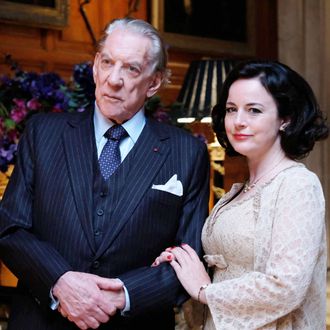 Photo: Oliver Upton/FX/FX Networks.
The second of two recent Getty kidnapping projects has run afoul of the Getty family. Per The Hollywood Reporter, Ariadne Getty has threatened legal action against FX's upcoming Danny Boyle-directed series Trust, which depicts the infamous kidnapping of her brother John Paul Getty III in 1973. In a letter to the network, her lawyer Martin Singer claimed that the series defames the Getty family by implying that they were complicit in the kidnapping. "You are using a false version of the Getty family tragedy for entertainment for your own financial gain," Singer wrote. "That is indeed ironic, since one of the themes of Trust is to portray my client's family as greed-driven." He demanded that FX make the episodes of the series available to review, and claimed Ariadne wasn't consulted on the making of Trust. FX hasn't yet commented on Singer's claims.
The Getty kidnapping was also at the center of Ridley Scott's recent film All the Money in the World, which got into hot water for taking the opposite tack that Trust allegedly implies. That film did not imply that Getty was complicit in his own kidnapping, angering the nephew of one of his kidnappers, who threatened to sue over what he perceived as slander to his own family. Just goes to show you that no matter how you depict a controversial historical event, it will remain, well, controversial.