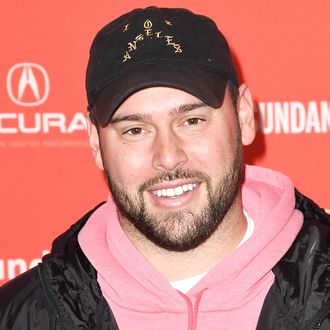 Braun.
Photo: C Flanigan/FilmMagic
Scooter Braun — best known as the manager of Justin Bieber and Kanye West — is now dipping his toes into the comics water. Specifically, superhero comics. As reported in the New York Times, Braun has partnered with David Maisel, the founding chairman of Marvel Studios, to form Mythos Studios, which aspires to make "its own hit comic-book movie franchises in live-action and animated formats." In addition to being in the midst of adapting the cult Soulfire and Fathom comic books for the big screen, the creative duo said they're also looking for original material that can be readily found in the public domain. And, yes, the chance of one of Braun's musical prodigies popping up in his projects is very much a possibility.
"If any of the talent we work with wants to be a part of the projects we're doing, we welcome them to join us on this journey," Braun explained to the Times. "I've already had conversations with certain talent that are very excited about being a part of this … if you tell a great story, people will care." He added that he knows people might be wary of his interest in the film industry, but he welcomes the opportunity to prove people wrong. He built a career, he joked, out of people's skepticism. "I was second-guessed on Ariana Grande, 'Gangnam Style,' 'Call Me Maybe.' That's usually the direction we ran in." The duo hope to have a time table for their projects soon.