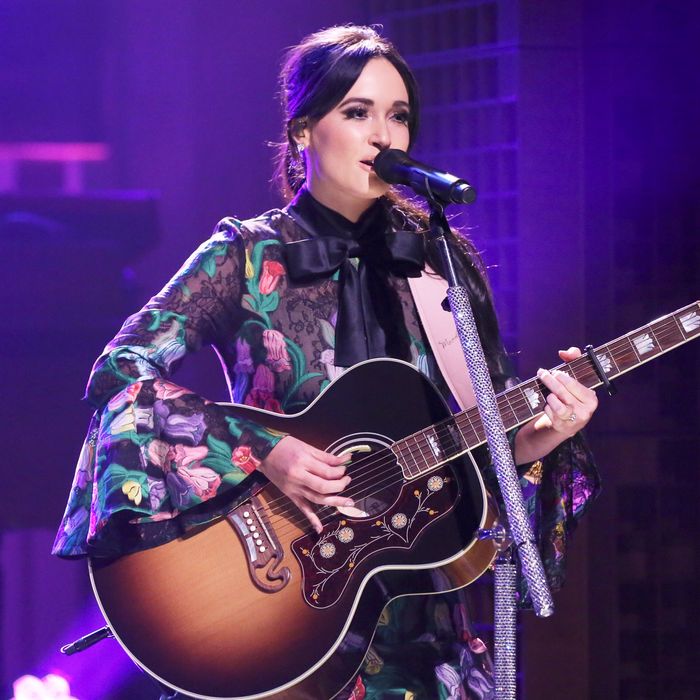 Golden Hour
makes mincemeat of the fuss about country women crossing over.
Photo: Andrew Lipovsky/NBCU Photo Bank via Getty Images
Like porcelain, Kacey Musgraves's voice seems both sturdy and delicate at the same time. She can bowl you over belting out big notes, but she's every bit as commanding at a whisper. Listening to her best songs — "Follow Your Arrow," "Merry Go 'Round," "Miserable" — feels like eavesdropping on a group of talented friends in a porch-front jam. Musgraves and her band make quiet, pretty country music, the kind that critics like to call "breezy," because songs rely as much on the band's beautiful notes as the open spaces between them. The loudest moment in Musgraves's performance of the new song "Slow Burn" last night on The Late Show With Stephen Colbert arrived when the pianist plucked out a string of sparse notes over the second verse. By the time the drummer showed up, there were seven people playing onstage, but the mix was still so gossamer that a cough from the audience could've broken it up.
Somehow this tiny, impactful singer registers as something of a weirdo around the Nashville mainstream-country scene. It's a demure and conservative community, the kind that gasps at a low-cut neckline on an award-show red carpet and rattles sabers all night when Beyoncé and the Dixie Chicks sing a song together on national television. Musgraves is an outlier because her politics are open, loving, and free. She lives for pot and neon and Nudie suits, and she took a big risk by making a big deal about LGBTQ rights on 2013's "Follow Your Arrow." (Nashville is so straight-presenting that Little Big Town's "Girl Crush," a song about a woman so jealous of a guy's girlfriend she maybe wants to live inside her body, could be celebrated as a groundbreaking queer anthem. Kacey, the lesbian singer-songwriter Brandy Clark, and the gay hit-maker Shane McAnally's lyric about kissing girls and boys blew more than a few hats back.)
That means her singles don't do well on country radio, the kind of place where women's contributions are referred to by radio consultants as "tomatoes in a salad" where the men are lettuce. Pair country radio's reticence to even play songs by women — an honest heresy when you think about guys in any other genre daring to declare the same — with its secret sexual-harassment problem, and the hell these singers catch from genre purists for angling for shine from collaborations outside Music Row (while men like Sam Hunt and Florida Georgia Line rack up country airplay No. 1's for playing the Travis Tritt right above the Tupac), and you get an impasse. Nashville wants its women to stay loyal but refuses to pay it forward.
Musgraves's new album Golden Hour makes mincemeat of both the trepidation about the quality of country women's art and the fuss about them crossing over. It's her most accomplished and her least traditional body of work to date. The towering disco jam "High Horse" might seem like a hard left in a discography of wispy outlaw-country tunes, but the magic of Golden Hour is that the 13-song track list patiently walks you into its experimentality, starting with "Slow Burn," a stoned, delicate jam whose closest stylistic antecedents are Radiohead, Harvest-era Neil Young, and fedora Beck. The slow slip from that song's faint space-rock vibes through the Prismizer vocal on "Oh What a World," and the hip-hop beat anchoring "Happy & Sad" feels like watching the roadside scenery slowly change during a trip out of town, or like gradually getting rip-roaringly high. When "High Horse" finally shows up deep in the back half of the album, it's a moment that feels earned, rather than some jarring, perpendicular ploy for Top 40 cachet.
For good measure, Kacey's pop coup comes with a lyric about cowboys and horses. The line advising an arrogant man to ride his "high horse" out of town illustrates Kacey's knack for flipping country clichés and mining cheeky puns. Her tightest hooks are impossibly simple koans — "Mind your own business, and life will be gravy," "If you ever find a silver lining, it's gonna be a cloudy day." They're a little silly and a little profound, like Golden Hour's "Space Cowboy," which invokes the Steve Miller Band hit as the singer tells a fidgety beau "You can have your space, cowboy" and calls on a Neil Young classic in verse two when she laments the death of a friendship, remarking that "after the gold rush, there ain't no reason to stay." "Slow Burn" is the kind of effortless double entendre a songwriter can spend an entire lifetime chasing. After musing about being late to things since birth in the song's opening verse, Musgraves says "I'm all right with a slow burn / Taking my time, let the world turn." She's singing about sustaining a career that took off quietly but still seems destined for greater heights ten years on, but she's also talking about kicking back and watching orange embers turn to ash at the end of a fat joint.
Golden Hour is music by and for weed and psychedelic enthusiasts, by Kacey Musgraves's own admission, but more than that, it's about falling for someone you might want to spend the rest of your life with. "Lonely Weekend" follows the trail of great Kacey songs about the comfort of inertia, about hanging out and doing nothing with someone special. (See also: "Die Fun" and "Late to the Party.") On paper, she's simply listing all the boring nights she's had in a week of waiting for a call from a lover, but the bubbling lust in the vocal and the band's rootsy, late-'70s Fleetwood Mac vibes elevate the cut to a kind of performative longing. The singer married the country songwriter Ruston Kelly last winter, but Golden Hour coyly resists the urge to simply gush like a "wedding album," balancing every song about the rush of new love with a pithy kissoff to a dirtbag or a clever line about wishing she was Wonder Woman so she could simply lasso the truth out of a man. Musgraves is grounded and well-rounded.
Golden Hour's lyrics are crafty, and its sound is quietly progressive. It's a testament to the underrated slipperiness of country, a genre big enough to house disco tunes like Kenny Rogers and Dolly Parton's "Islands in the Stream," murder ballads like Marty Robbins's "Big Iron," the bummed-out repose of Neil Young's After the Gold Rush, and the ultraslick pop of Shania Twain. Golden Hour tries a few of these on for size and slays just about everything it touches. (Points docked for the "Velvet Elvis" riff's alarming closeness to Niall Horan's "Slow Hands.") Kacey Musgraves might be a square peg around Music City, but her singing and songwriting are sharp enough, and consistent enough three albums in, to make any objections about her style and image seem embarrassing. Golden Hour is the country album to beat for 2018.