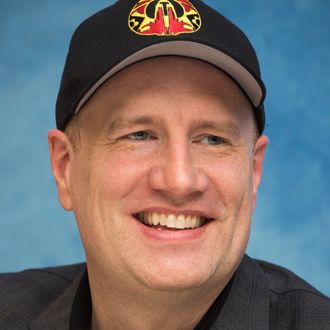 Photo: Vera Anderson/WireImage
In a new interview with Entertainment Weekly, Marvel Studios president Kevin Feige does his very best to stoke your enthusiasm about the future of Disney superheroes, while revealing very little about what the future holds for them after Phase 3 wraps up with the Infinity War double bill. (The final film in Marvel's "first" 22-film arc is just called Untitled Avengers right now.) Feige did, however, share a couple little details about what fans can expect from Brie Larson's Captain Marvel.
"We wanted to explore a period before Samuel L. Jackson's Nick Fury had any idea about any of the other heroes and crazy stuff going on in the world," said Feige. "You know, we first met Nick when he told Tony, 'You're part of a big universe. You just don't know yet.' Well, we want to go back to a time when he didn't know it yet, and really showcase and announce that Carol Danvers was that first hero that Nick came across." We already know that Captain is set in the 1990s, and Feige added that action movies of the era will influence the feel of the film, saying, "there are definitely homages to our favorite '90s action films" in the studio's first female-fronted superhero picture. When asked what, specifically, those homages would amount to, the producer said:
Well, not necessarily talking about any particulars of the story, but the action elements Terminator 2. That's about as iconic as you get, looking at kind of those cool street level fights, street level car chases, and fun stuff like that. That being said, much of the movie takes place in outer space, as you might think a Captain Marvel movie would. Like all of our genre inspirations, there are bits and pieces here and there.
So kind of the gritty high-impact violence of Terminator 2, but also Disney, and also in space. Sounds fun!