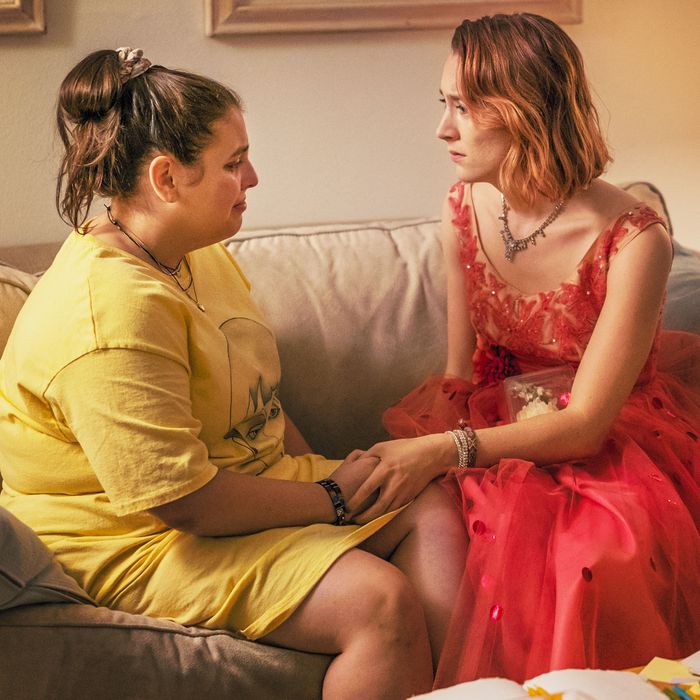 At Sunday night's Oscars, the prediction that Lady Bird would fly home empty-handed — extremely Anne Hathaway voice — "came true." Despite charming its way through awards season, and garnering five nominations from the Academy, Greta Gerwig's movie about a precocious 17-year-old didn't win an Oscar. Cut to me solemnly listening to "Crash Into You" and L'enfance Nue's "Fred Astaire" too many times on repeat, and an embarrassing number of friends asking me how I'm handling this loss. (First of all: Thanks. Second of all: You all take me way too seriously.) Lucky for us, Lady Bird itself has given us a few ways to process this loss:
How about this?
Or:
Or even:
So let us pay tribute to Lady Bird, and briefly mourn its losses — it's one of a handful of movies that would've been a groundbreaking Best Picture winner. Too many movies center on a boy's coming-of-age story, or the way a dopey dad grumbles as the women in his house bicker, or the way one man can dress up as another man and wear a lot of makeup so that his face looks like the other man's face. Greta Gerwig made a movie about what generations of male auteurs saw only as background noise. She made a movie about what happens when women talk, how we argue, and how impossible it can be to see people we love clearly. I was bummed when Lady Bird lost everything — imagine making me watch an entire awards show just so Gary Oldman could thank Winston Churchill! — because it would've been very baller to see the Academy highlight women who haven't suffered great trauma or labored to make themselves physically unrecognizable.
So it's not very baller that Lady Bird went home empty-handed, but it's hella tight that this movie made it so far. Lady Bird gave us so much. It gave us Beanie Feldstein saying "titular role." It delivered an entire press tour of Timothée Chalamet absolutely stanning Saoirse Ronan, and Saoirse Ronan politely petting his hair and calling him "pony." It was a perspective suited to the Time's Up reckoning, revealing how deliberately men discount women's voices, like the Rotten Tomatoes critic that negged the movie only because he thought it didn't deserve the score it rightfully earned. This movie did more for Justin Timberlake's career than Man of the Woods. It's a movie that made us call our moms! And it's the movie that spawned millions of lengthy, awkward silences between mothers and daughters, followed by a mom saying, "I wasn't really like that, was I?"
Beyond capturing the visual markers of a certain middle-class, early-2000s adolescence, Lady Bird is the deceptively simple story of two women. It finds its magic in the deeply ordinary, a 95-minute suggestion that everything that goes on between a mother and a daughter, between a girl and her best friend, counts as something extraordinary. I love every little thing about this weird, tender movie: The way Marion says a corny Christmas gift just makes her laugh. The way Sister Sarah-Joan reads prom theme options: "Cities of the World, Eternal Flame, and movies!" The way Danny tells Lady Bird he remembers her from musical auditions because she was "wearing that dress." How Kyle calls Lady Bird a "good girl" for not having a cell phone.
Lady Bird lost at the Oscars, but its success everywhere else — at the Golden Globes, on Twitter, in our group texts — will help it outlast this sting. We've had enough Daddy Issues: Redux; we deserve more movies that show girlhood and home life as something dramatic — and something exquisite. A few Oscar wins would certainly prove that movies about women's coming of age are capital-I important, but we've known this film was special since the very first time we saw Lady Bird throw herself out of her own car. We got through Lemonade losing its deserved Grammys, and Timmy keeping his unibrow intact on the cover of GQ — we'll be fine. and And if nothing else: Sis, we're getting three more!
"One day I'm going to have a daughter and let her watch Lady Bird, and she won't spend high school thinking men have more interesting things to say just because they get to say them more often," I texted my version of Julie after the Oscars. It was late, and I was drunk, but I mostly meant it.