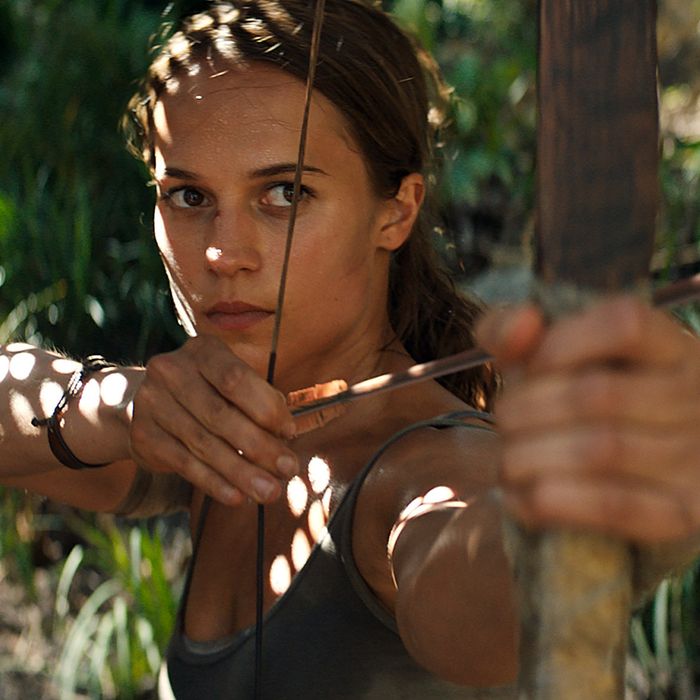 Alicia Vikander as Lara Croft.
Photo: Warner Bros.
When Lara Croft made her first appearance on video-game screens in October of 1996, her date of birth was set as February 14, 1968 — which means the original globetrotting relic hunter turned 50 last month. Of course, in human time, Lara Croft has only been around for 22 years, and as she evolved from video-game novelty to pop-culture icon, her character has frequently been reimagined, both on screens and in the various forms of her real-life counterparts. And when she returns to movie screens on March 16, she'll have an entirely new origin story.
It's all a little hard to keep track of, so we've compiled a timeline of the many lives (and bust sizes) of Lara Croft.
1995: Toby Gard, a designer at Core Design, conceives of a game with a male Indiana Jones–type protagonist hunting down relics in dark tombs. Later, the game hero changes to a heroine: Laura Cruz, a South American archaeologist with an unrealistically sized 24-inch waist. Gard (allegedly) accidentally increases Lara's bust size by 150 percent instead of 50 percent during the design process. And so a 36D she remains. "Laura" eventually becomes "Lara" after Gard chooses a random name from a telephone directory to make her sound more British.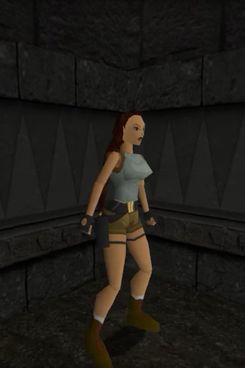 October 25, 1996: The first Tomb Raider video game hits store shelves. Lara wears a modestly cut teal tank top, light-brown Daisy Dukes, a wide, bulky belt, and guns holstered on either side of her thighs. Her long hair is braided and she sometimes wears sunglasses with round, red-tinted lenses. Her story starts when she is 21 years old and set to marry into a wealthy family, but then her plane crashes in the Himalayas and her fight for survival leads her to leave her aristocratic life behind and become an adventurer. At the end of the fourth video game, however, her fate is unknown after a pyramid collapses with her still inside. Kill off Lara Croft? How dare they even suggest it?!
Nathalie Cook, a British model, gets the gig to portray the first real-life Lara Croft at trade events soon after the game's release.
Early 1997: The video-game version of Lara starts to appear on the covers of magazines like Face, Entertainment Weekly, and Time. Her portrayal outside of the video games becomes increasingly sexualized, and Gard leaves Core Design before the sequel is released. He tells the online video-game service, GameTap, that he sees her as a strong female role model and says, "I don't think that the character would ever get into Maxim-style poses."
October 1997: The game Tomb Raider II is released. The game sequel sees Lara become even bustier, her tank top cut even lower. Her signature braid is replaced by a ponytail. Judith Gibbons takes over as voice actor, and English model and actress Rhona Mitra replaces Cook as a real-life Lara. (Mitra later goes on land her breakthrough TV role on Party of Five and play Reese Witherspoon's best friend in Sweet Home Alabama.)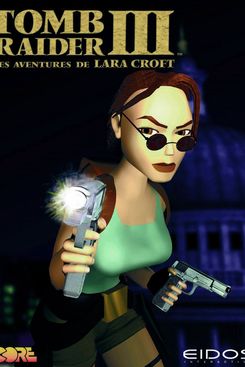 November 1998: Tomb Raider III is released, and Lara's appearance in the game remains more or less the same. Nell McAndrew replaces Mitra as a Croft model, but is fired in 1999 after she poses for Playboy and the magazine uses her Tomb Raider alter ego as marketing fodder. Core Design goes to court, and the British High Court rules that the magazine is not allowed to use the game's logo next to McAndrew's nudes, as well as banning the use of "Lara Croft" on the cover.
March 1999: Some overexcited fans create a patch for the game that strips Lara down to her birthday suit to become "Nude Raider." Core Design is not happy and again launches legal action.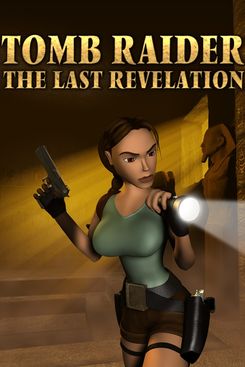 November 1999: The game Tomb Raider: The Last Revelation presents a curvier, bustier Lara with an even lower-cut tank top. Additionally, a Lara Croft comic by Top Cow Productions debuts; starring a Lara whose abs would put Zac Efron to shame, it runs until 2005. After the Playboy drama, a Dutch actress, Lara Weller, becomes the model for Tomb Raider events.
November 2000: For Tomb Raider: Chronicles Jonell Elliott takes over as Lara's new voice, and Lucy Clarkson, an English model turned reality-TV star, is the new live-action Lara.
June 2001: Angelina Jolie is the first Lara Croft of the big screen in the feature film Tomb Raider. The movie breaks away from the game's backstory: We meet Lara when she is already in the business of hunting relics after her father's disappearance many years before. Jolie's Lara is a more athletic, muscular heroine; her light-colored and low-cut tank top is replaced by a black tank, and Lara's original braid features prominently. Jolie has to wear prosthetics in the Tomb Raider movies to match Lara's generous upper-torso features, increasing her bust size from a 36C to a 36D. (Later, in an interview with Entertainment Weekly, Tomb Raider director Simon West says he considered using a wide-angle lens because "they're so big to frame around.")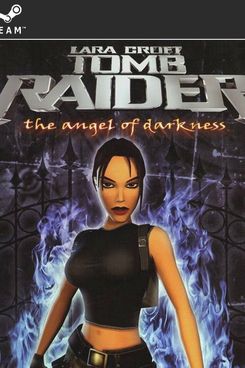 June 2003: In the game Tomb Raider: The Angel of Darkness, Lara gets a new look inspired by Jolie's version of the hellraiser. She now wears the same black tank top featured in the movie — and it covers everything right up to her collarbone. Other small changes include more prominent makeup, especially darker eyeliner. She is, much like Jolie, more muscular in this game. Jill de Jong, a model from the Netherlands who is repped by Wilhelmina Models, becomes the new real-life Lara.
July 2003: Jolie reprises her role as the Tomb Raider in the movie Tomb Raider: Cradle of Life. The sequel keeps the origin story of the previous film and follows Lara as she tries to find the fabled Pandora's Box.
April 2006: Lara gets a new backstory in the game Tomb Raider: Legend. In this iteration, Lara is 9 years old when the plane crashes, but this time her mother, Amelia, is also on the plane. Amelia later disappears and Lara obsessively tries to find out what's happened to her. Her dramatic proportions are retained — and even exaggerated — with a V-neck and exposed midriff. Keeley Hawes steps in as the game's voice actor and holds onto the gig for the next six years, the longest stint of all the voice actors. The Moroccan-English model Karima Adebibe (who shares Lara Croft's birthday, February 14) takes over from Jill de Jong as trade-show Lara.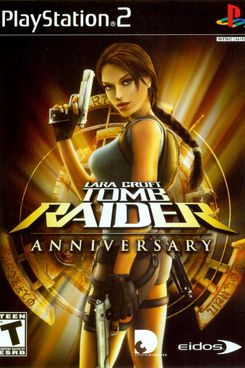 June 2007: The Tomb Raider: Anniversary game is released, and in it, Lara's hair is back in a braid and the low-cut tank returns. But wait: In this game, THERE ARE TWO OF THEM. Lara squares off against her doppelgänger in the anniversary edition.
July 2007: GameTap creates an animated webseries, Revisioned: Tomb Raider, with Minnie Driver as Lara. It originally airs on the GameTap website and is now available on YouTube.
November 2008: The game Tomb Raider: Underworld is released. Once again, Lara comes face-to-face with a doppelgänger. She goes darker with her wardrobe, now wearing a brown top with black shorts. Alison Carroll, a former British gymnast, is the last live-action model to portray Lara Croft.
August 2010: The video game Lara Croft and the Guardian of Light marks the return of the teal tank top, and it brings with it an exposed midriff.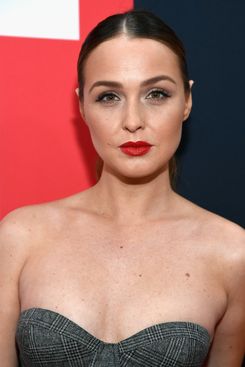 2011: Grey's Anatomy actress Camilla Luddington takes over as Lara's voice for the video game as well as the motion-capture duties. She's still got the gig today.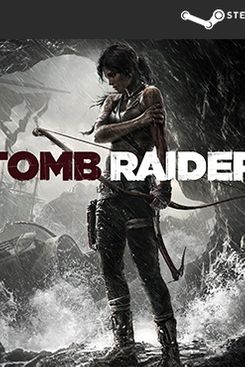 March 2013: The release of the game Tomb Raider marks a massive reboot of the franchise. With new developers (Crystal Dynamics replaced Core Design), Lara has never looked more human: Her shape and measurements are more realistic, as is her wardrobe. Her gun is in a single hip holster. A bandage on her left thigh over her long pants shows a certain vulnerability. She also wears a necklace with a green pendant for the first time. She gains weight and more muscle, but the character's more realistic proportions are also part of an effort to refocus the attention on Lara's exceptional skills and tough-as-nails spirit, rather than her cartoonishly big bust. The 2013 reboot features a younger Lara — her birthday now changed to February 14, 1992 — and explores her origins and how she became the Tomb Raider: Her mother vanishes when Lara is young, her father goes off the rails after developing an obsession with immortality, and it's at university that Lara first sets off to find a mythic kingdom and becomes an ice-pick-wielding explorer.
February 26, 2014: Lara returns as a comic book heroine in a new series by Dark Horse Comics. The first edition picks off where the recently released game Tomb Raider ends.
December 2014: Lara Croft and the Temple of Osiris, a sequel to Tomb Raider, hits shelves.
November 2015: Rise of the Tomb Raider is released. Luddington, still behind Lara's voice and every move, provides the basis for Lara's face, and the designers realize that she looks too much like Luddington and has "too many human qualities." Fans also don't like it. Apparently, her face now has a "squishiness" that doesn't sit well with them.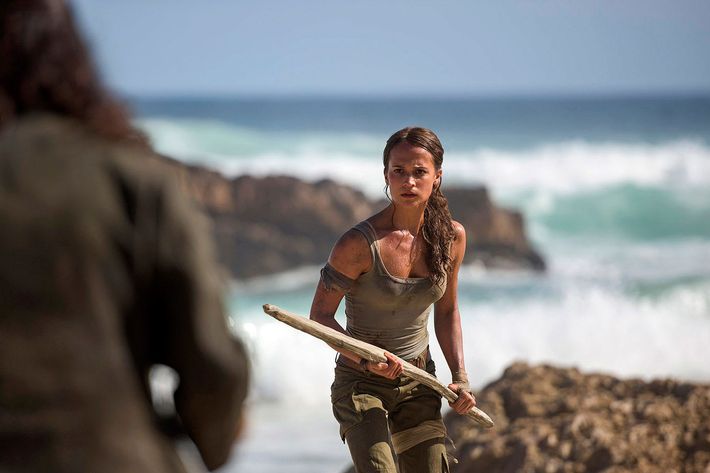 April 2016: Alicia Vikander signs on to star as Lara Croft in a new addition to the film franchise. Star Wars heroine Daisy Ridley, Game of Thrones' Emilia Clarke, and Golden Globe winner Saoirse Ronan had been rumored to be in the running for the role. Vikander jokes on The Graham Norton Show that her "breasts are not as pointy as the first Lara's."
March 9, 2016: Barbie gets in on the action. Mattel's Tomb Raider Lara Croft Barbie doll is the spitting image of Alicia Vikander. The doll's design is based on Vikander's look in the new movie, but the resemblance is uncanny. The Tomb Raider Barbie is now on sale.
March 16, 2018: Tomb Raider with Alicia Vikander is slated to arrive on the big screen. The new movie has been described as an origin story, and although it features quite a few similar action sequences, the plot doesn't follow the story arc from the games; rather, it follows Lara as she goes in search of her missing father and transforms into an intrepid renegade. And Lara has a buxom bust no more: Her overall toned physique is reflective of the character's more realistic appearance after the 2013 reboot. She wears a sensible ponytail while still nearly getting killed in a variety of ways. In an interview with CinemaBlend, Vikander describes the character's changes as running parallel with how society has changed. "She has become more of a woman of now, of the time."
Later this year: Behold! Something "major" is coming. Square Enix (of which Crystal Dynamics is a subsidiary) tweeted that there will be a "major event in 2018" and called it "Lara Croft's defining adventure." Apparently it's a game, and it will be called Shadow of the Tomb Raider.