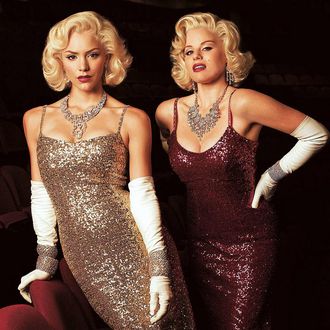 Katharine McPhee and Megan Hilty in
Smash.
Photo: NBC
As any faithful Smash fan/foe knows, Katharine McPhee is currently poised to assume the lead role in Waitress this April. Did their former star's rise to actual Broadway inspire the creators of the canceled NBC musical drama to try to take their show about a faux Broadway hit … to Broadway? Get ready to get incepted through layers and layers of Debra Messing's terrible scarves, because not only could Smash get rebooted, it could get rebooted for the stage.
According to Variety, NBC Entertainment chairman Robert Greenblatt revealed his hopes for the show's revival on their theater podcast Stagecraft. "Interestingly enough, I hear more about people loving Smash now than I ever did when it was on the air," he reportedly said. The series' fictional Marilyn Monroe musical Bombshell was staged once back in 2015 after a wildly successful Kickstarter campaign and, for a time, was in development as a stage musical over at Universal. "We've been thinking about different ways to think about a stage musical based on Bombshell or Smash," Greenblatt continued. "That's all I'll say. There's an incarnation which could sort of combine both … You may not have seen the last of Smash yet. I think the next incarnation will be onstage." A Bombshell musical within a Smash musical? Get ready, Megan Hilty. Your time is now.