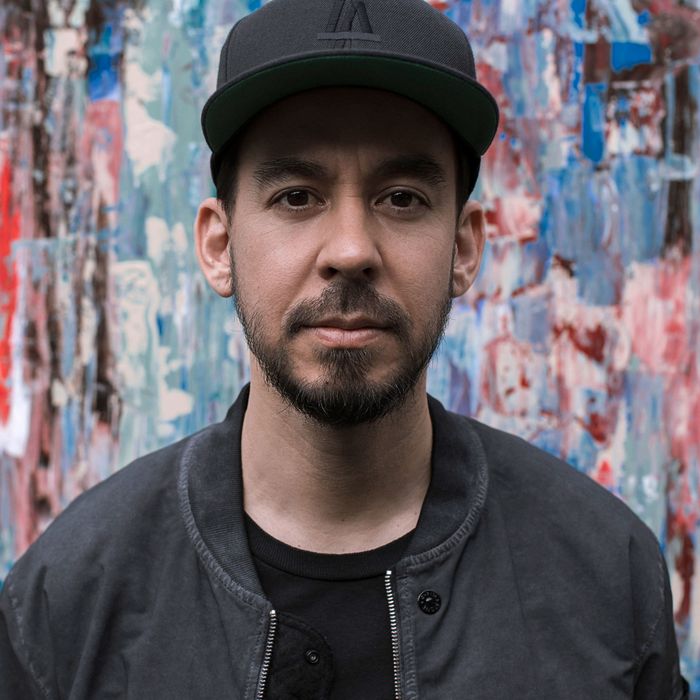 Shinoda.
Photo: Frank Maddocks
On July 20, 2017, the music world lost one of its most innovative artists in Chester Bennington. The singer and front man was best known for his work in the genre-bending rap-rock group Linkin Park, which rose to fame with its 2000 debut album Hybrid Theory. For almost 20 years, the singer, who died at 41, shared vocal duties with founding member and longtime friend Mike Shinoda. Just two months before Bennington's death, the California rock stalwarts would release their seventh album, One More Light, and Bennington's last.
Over the past seven months, Shinoda has been figuring out how to heal following Bennington's passing. Last October, Shinoda — along with the remaining members of Linkin Park — held a tribute concert in honor of Bennington where they performed a selection of career-spanning songs at the Hollywood Bowl with special guests including Blink-182, Korn's Jonathan Davis, and Machine Gun Kelly. It was the first and only show they've played since Bennington's death. In the time before and after the show, Shinoda has been reflecting, painting, and making his own music. At the top of the year, he released his Post Traumatic EP: a trio of songs that captured the darkness he felt as he processed losing his friend. In June, he'll release his first solo album. In his own words, Shinoda tells Vulture about the grieving process, his solo project, and the future of Linkin Park.
The past seven months have been a roller coaster. Even as a kid, whenever things were going on that were hard for me to deal with, I would always turn to art. I was always drawing and sketching in notebooks. In fact, my parents used to joke that if they gave me a pen and a pad at dinner, they could literally sit and have a meal with their friends for as long as they wanted. It's been cathartic — one of the things that's helped me navigate what has happened.
When Chester passed, for the first week, I was completely lost at sea. I realized in the middle of the week that there were certain things that were really scary for me that, in the long run, I wasn't going to be able to avoid. One of those things was listening to [Linkin Park's] music at all, and another was getting into the studio to write. I couldn't possibly avoid it: I'd be out getting ice cream with friends or my kids and a Linkin Park song will just side-swipe you at some point. A couple months ago, a woman and her daughter came up to me at Disneyland and it was this outpouring of conflicting emotions: excitement to meet me for the first time and sadness. It was so sweet, but I also thought to myself, Am I going to be able to handle this going out into the world? I had spoken to Rick Rubin a couple of weeks after [Chester's death] and he told me, "I think you guys really need to get onstage. Don't wait to listen to the music. Don't wait to get onstage." I just had to dive in and do it and get back to writing music in the studio. And the longer it took me, the scarier it would become.
So about eight days after Chester's passing, I went into the studio and started making some stuff. I was starting to feel like I was a little bit out of touch with reality; I wouldn't sleep well at all and then I'd wake up and go into my studio. Half the time I would just go in there and make stuff in the dark. The connection with reality was strained or blurred: It just felt so surreal with everything that had happened. Because I was in that headspace, one day I flipped on my phone and started recording "Place to Start" — I sang it into the phone while it was playing. I liked what that looked like: It felt like I was Skyping or FaceTiming you. I started to shoot things when I was really feeling them so that the sincerity would be there. I wasn't 100 percent sure I would release the videos that way, but the more I thought about it, the more it became obvious that it was the right thing to do.
The funny thing is, I know that the videos and songs are difficult to listen to and watch because they're so heavy, and that's totally okay. Not all the music I've been making is like that, but if I didn't put those out, I feel like there'd be a disconnect between where I was and where I will probably go. I don't know where I'll go, but I know that I need to show this side of things. In my social feeds, fans were so outspoken about how heartbroken they were, and they were constantly reaching out to me asking how I was. There were what seemed to be thousands of tributes. I felt like I had a little bit of a responsibility just to show up: I didn't want all of their effort or emotions to disappear into a black hole. I wanted them to know that I was here and listening.
In the beginning, I didn't care what I made as long as I was doing something. Sometimes it would just be for fun, and then eventually I was making some serious stuff about what was going on with me, and those became the first three songs I put out. Since then, I've kept going and realized that, since grief is such a personal thing, this had to be a solo album. I'm basically trying to sum up in the most truthful way the things that are happening in my head as I go. Some days that's really dark, and some days it's totally not. Hopefully as I go, the lighter days become more frequent.
It goes without saying that it's hard. I used to think the stages of grief were in order, but I've realized they're obviously not, and what's so chaotic is that the sequence happens at random. You might be completely flip-flopping emotions in the span of ten minutes — at least that's been my experience. And I talk to the other guys from Linkin Park pretty regularly. We check in all the time. We've gotten together and hung out a lot. Once in a while we play a little bit of music, but there's also a lot of uncertainty there about what to do.
The idea of doing a tribute show was scary to everybody, and we all kind of knew we had to do it. Doing it was partially for us to feel like it was possible — see if we could pull it off ourselves getting up there, much less anyone else. It was an insane show: reaching out to all of those artists, getting people onboard, making sure they're taken care of, making sure they know who's singing what, and that they got everything they needed to perform. It was three hours long, the longest show we did in our career. I was knocked out for two days. It also, in a sense, solidified how unique and special Chester was as a vocalist and a performer. You have all these people who are incredible artists singing his parts. On one hand, they did an awesome job, and on the other hand, nobody could be Chester. Ever.
I'm unable to say what will happen with the band. There's really just no answer, and it's funny because if I even say anything about the band's future, that becomes the headline, which is stupid because the answer is there is no answer. Fans think they want to know what the future is: Believe me, I want to know what the answer is. But there just isn't one. What I do know is that, for the immediate future, this thing I'm doing couldn't be more important for me personally. I put everything into the stuff I'm making — not in a make-a-cool-record-for-people-to-buy kind of way — but I've really just done my best to tell my story. Anyone who has ever lost someone dear to them knows that what you're trying to do is find the "new normal." You're trying to get your balance. I don't think there's ever a definitive finish line to that. The compelling part about it is, there's a suspense about what comes next. Being able to do things on my own without having anyone to check in with, I can just say, "Oh, by the way I have an album coming out." I'll put it on my Instagram and my Twitter and decide, now's the time. In a sense, it's liberating. For me, this is one way to feel a little bit of peace.