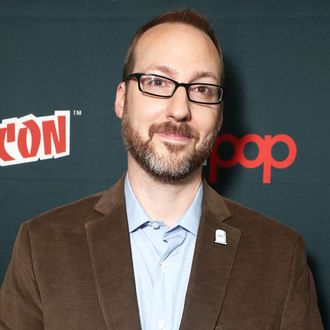 Photo: Todd Williamson/Getty Images for Amazon
Aaron Mahnke, the mind behind the wildly popular creepy podcast Lore, is going to make a whole lot more audio shows. This morning, Mahnke announced that he signed an exclusive overall deal with the Atlanta podcast giant HowStuffWorks — which is currently wrapping up Atlanta Monster, its true-crime collaboration with Up and Vanished's Tenderfoot — to develop a slate of new programming for the network.
"We've admired Aaron as one of the edgiest, most innovative creators out there for a while now," said Conal Byrne, president of HowStuffWorks, tells Vulture. "So we wanted to set up an imprint-type structure for him, where we could support him with development, production, marketing, and sales resources, to create new co-branded shows across the next several years."
Branded as "From HowStuffWorks and Aaron Mahnke," the imprint will debut at least two new shows in the second half of 2018, with at least another two more projects scheduled to roll out next year. These new podcasts will operate separately from Lore, which Mahnke will continue to produce. HowStuffWorks also noted that it is building a new team of producers that will be dedicated to the imprint.
No specific details yet on what these new podcasts will actually sound like, but from the looks of it, they will likely build on the model that's worked well for Mahnke so far: mining the past for creepy stories and delivering them with precision. "One of the things I've learned over the years about my Lore listeners is just how passionate they are about learning new, obscure, or bizarre stories and lessons about the world we live in," Mahnke wrote when asked about how he's approaching the new shows. "History is a well that's big and deep and very, very dark, and I plan to have a lot of fun pulling up new and amazing stories to share with the world."
When asked about the reason for partnering with HowStuffWorks' decade-old podcasting operations, Mahnke again evoked a sense of history. "The first podcast I ever listened to was Stuff You Should Know," he said. "To think that a decade later I would be partnering with those folks to build a whole network of audio content almost feels poetic and fated. HowStuffWorks is known for helping people grow and learn, and story is a big part of that. I can't think of a better partner for this new chapter in my career."
This isn't the first time a podcast company has evoked the imprint model for a collaboration like this. In early 2017, Panoply Media leveraged the momentum it saw with the success of Happier With Gretchen Rubin to launch an imprint-style collection of new shows around the self-improvement genre, called "The Onward Project," curated by Rubin herself.
This new exclusive partnership, which UTA brokered on behalf of Mahnke, builds upon the good start to the year that Mahnke's been enjoying so far. Last month, he received official confirmation that Amazon had ordered a second season of Lore's TV adaptation, which debuted on Amazon Prime last October.