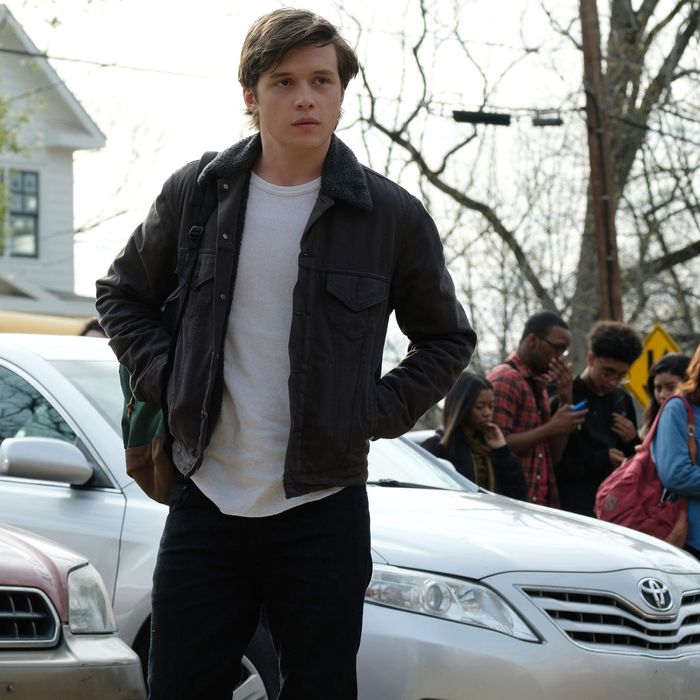 Nick Robinson in
Love, Simon
.
Photo: Twentieth Century Fox
One credit in the opening roll of Love, Simon serves more as an indicator of what's to come than any other, and that is the name Jack Antonoff. The pop producer, who has risen to fame through his work with the likes of Taylor Swift and Lorde, served as the music supervisor on Greg Berlanti's pillow-soft teen rom-com, and Rob Simonsen's score seems to take a cue from his sunny, synth-y sonic palette. Just about anything I could say about Antonoff's work as a music producer would apply to Love, Simon as well — it's too sanded down to ever truly snag on something like a real, specific, visceral emotion, but it's got the pop-chorus bombast that will get you to some kind of objective sense of fireworks, one way or another.
Love, Simon opens with its namesake (played by Nick Robinson) declaring, in voice-over, that he's "no different from you" — save for, of course, the "big secret" of his sexual orientation. This spiel, in which he lists off his upper-middle-class credentials, is later repurposed for his first email to an anonymous, also-closeted classmate, and it shows the film's hand pretty expediently. Whether Simon thinks he's "just like" us, the audience, or you, his anonymous pen pal "Blue," there's a limitation of imagination on display here, and that alone may be enough to lose some viewers' trust. The advertising campaign for Love, Simon has pushed the narrative of its "groundbreaking," unprecedented status as a mainstream gay teen romance, but in all its mainstreaminess, who is Love, Simon trying to make comfortable?
In a way, the excessively beige, two-story, happily-married-parents comfort of Simon's life seems to mostly serve as a blank canvas upon which his impending coming out will stand in stark relief. Once you get over the film's insistence that Simon's middle-class whiteness is indeed a blank canvas, you'll find a pleasant little film, heartwarmingly naïve in the way that teen films can and should get away with, featuring a Hughes-ian ensemble of high-school seniors just trying to figure out their emotions before graduation day (let me know when you do, and what your secret is, kids!). As Simon's correspondence with the mysterious "Blue" progresses, his bond, and his effort to keep it secret, intersects with the love lives of his friends, including the hot, but secretly a misfit, new girl Abby (Alexandra Shipp) and the multiple suitors competing for her attention, and his longtime BFF Leah (13 Reasons Why's Katherine Langford) who's been carrying a torch for him for years.
Though the Leah thread could have gotten more time — they're onscreen together so infrequently that I forgot they were supposed to be "inseparable" — that plot in particular demonstrates what Love, Simon is equipped to do pretty gracefully. We've seen the heroines of teen movies have their hearts broken by their gay crushes countless times, only for the boys in question to drift out of the narrative once their orientations are made known to the girls. Here we get a sensitive look at all the struggle and confusion going on behind those scenes and at home, the centrifugal pull to keep everything the same just a little bit longer, even as not coming out gets more excruciating by the day. (Simon at one point imagines finally being able to let his freak flag fly once he's safely made it to college, and the rainbow-colored Glee-like dance sequence that ensues is hilariously tame — it's the fantasy of a kid who doesn't even know what to ask for yet.) Aside from a couple of central-casting bullies in the wings, and the threat of blackmail from an equally confused classmate, most of the pressure comes from within himself. His friends are open-minded theater geeks; his parents, played by Jennifer Garner and Josh Duhamel, are well-intentioned and liberal-minded, perhaps a little too uncomplicated in their acceptance of Simon's coming out. (A parents' feelings can be myriad, even when they're positive.)
But Love, Simon is more interested in setting up its Ferris wheel highs than sifting through the messier aspects of coming out, and by the time its fairy-tale ending arrives, it's impossible to judge it by any yardstick of realism. And that's totally okay — who wouldn't be heartwarmed by the sight of a crowd of teenagers, all cheering for the victory of love between two boys? As it turns out, the Ferris wheel is the other perfect parallel to Love, Simon, not the most thrilling ride in the park, a little slow, utterly predictable, perhaps even welcoming the label of "boring." But like the chorus of a latter-day Taylor Swift song, it will lift you up, goddammit, and good luck trying to stop it.