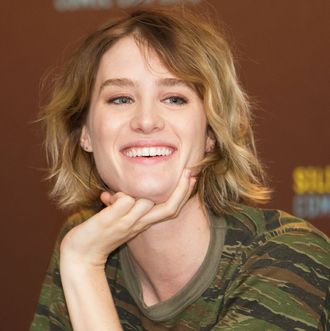 Mackenzie Davis.
Photo: Kimberly White/Getty Images for AMC
There's another Terminator coming — yes, another one — but this time it's different! This time it will probably feature Mackenzie Davis! According to The Hollywood Reporter, the actress is closing in on a deal for the oft-rebooted franchise, and the new movie would be both a direct sequel to Terminator 2, and the first to have James Cameron involved since he delivered Judgement Day in 1991. (So basically we're just deleting all those other Terminator movies that have come along — sorry, Emilia Clarke.) No plot details so far, but the broad strokes are standard robo-pocalypse fare. Davis would play a human soldier-assassin on a mission in this Tim Miller–directed effort, and it "once again sets up the battle between (wo)man and machine." Arnold Schwarzenegger is said to be reprising his role, of course, but so is Linda Hamilton, which is extra-exciting news.
The new Terminator is intended to kick off a fresh trilogy, but according to THR it's not yet known how many movies the deal with Davis would include. The studio is reportedly still looking for a Latina actress to play its new star, and that character would carry the franchise for all three possible films. The casting search continues, but Cameron would do well to keep Davis around for as long as possible.