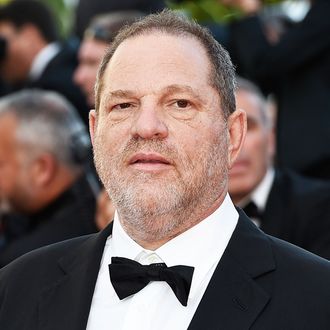 Harvey Weinstein.
Photo: Loic Venance/AFP/Getty Images
Authorities are still putting together a case against Harvey Weinstein, according to "Page Six." After NYPD sources told the Daily Beast that police are ready to make an arrest, but waiting for Manhattan DA Cyrus Vance Jr.'s approval, Vance offered an update. "I've spoken with the police and I can tell you we are working very hard with them to complete the investigation," he said. "We'll take the time it will take to get it done right." Authorities are working to collar Weinstein over allegedly raping actress Paz de la Huerta twice in 2010. Per "Page Six," because Weinstein is seeking treatment for various addictions in Arizona, police say they need Vance to get a warrant.
In October, as the initial wave of allegations against Weinstein were reported, Vance was criticized when it was reported that a Weinstein attorney donated $10,000 to the DA's campaign after he declined to pursue charges against the former studio exec for allegedly assaulting Italian model and aspiring actress Ambra Battilana Gutierrez.