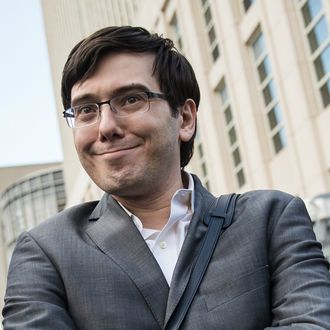 Martin Shkreli.
Photo: Drew Angerer/Getty Images
Following his conviction for securities fraud in 2017, it was rumored that reviled "pharma bro" Martin Shkreli would likely lose that alleged $2 million one-of-a-kind Wu-Tang album he bragged about for years on end. Turns out, the rumors were true. According to New York Law Journal litigation reporter Andrew Denney, Shkreli was ordered by U.S. District Judge Kiyo Matsumoto to forfeit $7.36 million in assets, which would include the only copy of Once Upon a Time in Shaolin, which the former pharmaceutical executive claimed cost him $2 million at auction in 2015. (The content and validity of the album, however, has long been a point of debate.)(Which is to say, it's probably a fake.)
Shkreli will also allegedly give up an unreleased Lil Wayne album, a Picasso, and money from his brokerage account. The former hedge-fund manager was convicted of two counts of securities fraud and a conspiracy charge after defrauding investors in MSMB Capital and MSMB Healthcare, all of which is unrelated to his infamous decision to purchase the manufacturing rights to the anti-parasitic drug Daraprim, typically used by HIV/AIDS patients and the otherwise immunosuppressed, and jack up the price sky-high. Shkreli is currently scheduled to be sentenced on Friday for his crimes, though getting clowned on in the subsequent Wu-Tang song "Lesson Learn'd" was probably punishment enough. Well, on top of the hypothetical 20 years of jail time.