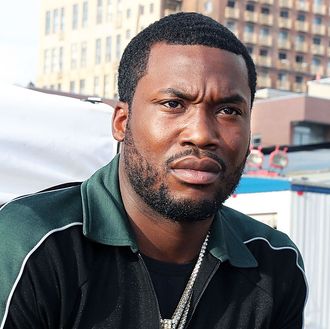 Meek Mill.
Photo: Shareif Ziyadat/WireImage
After being incarcerated in November 2017 for violating his parole over a gun-and-drug case in 2008, rapper Meek Mill could be released earlier than expected from a Philadelphia prison. In a surprising turn, prosecutors told the AP they are not opposed to allowing the hip-hop star to appeal his probation-violation sentence from outside a jail cell. It's the first sign of good news for Mill and his defense team since he was turned down for parole late last year.
The news comes after a criminal-justice-reform panel at the University of Pennsylvania on Tuesday during which Mill phoned into to talk to his mother and the Reverend Al Sharpton. "I'm just happy to be able to shed light on the situation," Mill said. "I'm the platform for other people to fight for their freedom."
Since Philadelphia judge Genece E. Brinkley sentenced the 30-year-old rapper to two to four years in prison over violations having to do with a nearly decade-old case, Mill has become the celebrity face of mass incarceration. According to NBC 10, Sharpton said yesterday, "You're not just talking about freeing Meek. You're talking about freeing the whole system."
Mill's attorney Joe Tacopina blames the judge for what he has called an injustice, criticizing Brinkley for being "enamored" with the rapper, and saying she crossed the line when she asked Mill to write a song about her and showed up to his community-service project.
In an exclusive jailhouse interview with Rolling Stone, Mill showed no love for the judge, saying, "There's brothers locked down that did nothing to be here but piss off people like Brinkley."
When Mill was denied bail in late November, the Reverend Sharpton, one of the hip-hop star's staunchest defenders, said the rapper was being treated differently because of his color, alleging that the case had become "inappropriately personal" for the judge.
Just last month, it was announced that Judge Brinkley hired her own attorney, accusing the rapper's legal team of making false claims against her. "Page Six" broke news in December that Brinkley was being investigated by the FBI over her handling of the case and possible financial conflicts. There's no word about whether Brinkley or a different judge will decide whether Mill is released from prison, but word could come as early as this week.