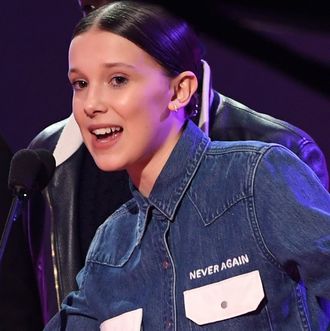 Millie Bobby Brown.
Photo: Kevin Winter/Getty Images
John Cena is not simply the only man in America who can look cool in jorts, he also supports teen activism. The wrestler-turned-actor hosted the 2018 Nickelodeon Kids' Choice Awards Saturday night and opened the show with a shout-out to the millions of teens who marched to end gun violence earlier in the day. "I just want to take a moment to celebrate what kids across the nation accomplished today," Cena said as he opened the show, and take a moment he did. Though he didn't mention guns specifically, he did say, "Change is only possible when we all work together. And its so inspiring to see kids take charge! That is the true spirit of Nickelodeon and the Kids' Choice Awards." It's true, while not about gun violence per se, Nickelodeon and the Kids' Choice Awards have long been champions of solving problems not with guns, but with slime. Slime Cena was later covered in.
But he wasn't the only one at the awards championing change. Millie Bobbie Brown gave a heartfelt acceptance speech after winning the award for favorite TV actress. The star of Netflix's hit series Stranger Things wore a shirt that said "Never Again" and included on the back the names of the 17 victims who lost their lives in the shooting at Marjory Stoneman Douglas High School on February 14. She spoke of being inspired by the marchers, and that she wants to use her platform to "make a positive difference and help influence change." She then dedicated her award to the victims of last month's shooting, saying ""For the angels among us, your spirit lives on. This is for you." Today was the day Millie Bobby Brown became president.